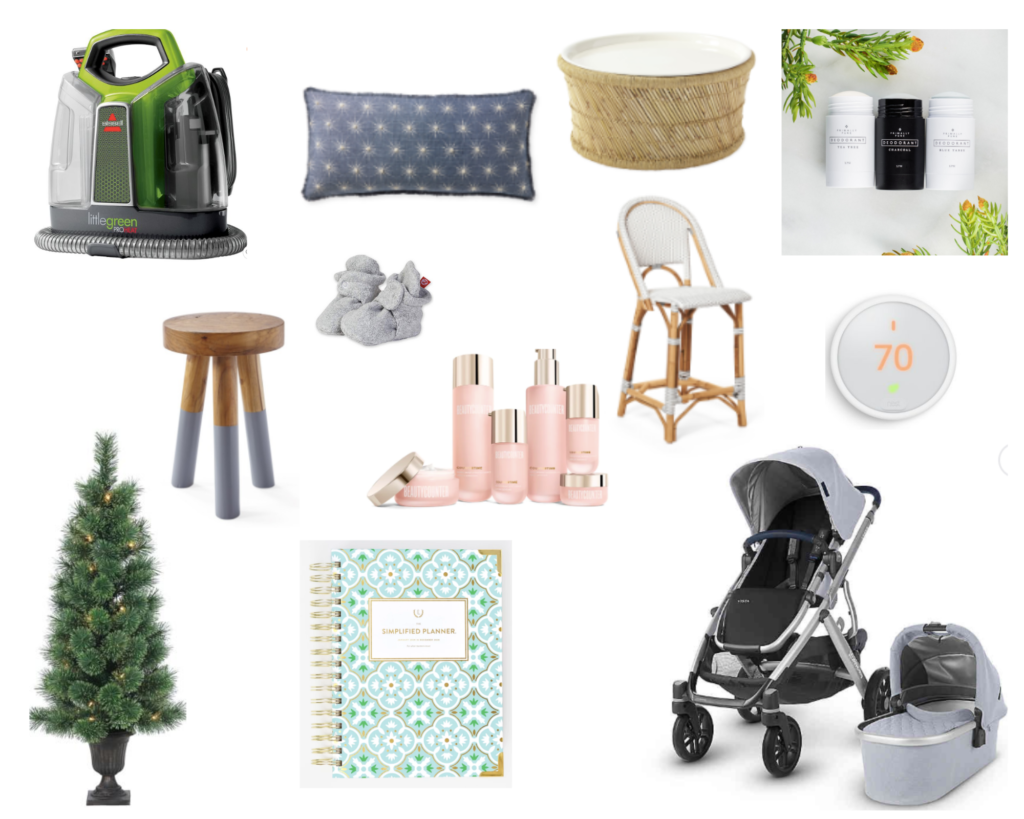 Alright y'all, we're going super simple for Black Friday this year. Mike and I have a specific list of things we are going to get for home and baby. I also linked up some of our home decor that I frequently get asked about and chose a few of my favorite places to shop that are having amazing deals.
I find that there are so many Black Friday gift guides available online now that I get overwhelmed and so having a list of the things we need keeps me from going crazy on the things we don't. Makes sense, right?!
Home, Decor + Baby

Everything we're getting:
Baby Booties: I've heard rave reviews about these booties because apparently they stay on baby's feet! They have fleece and also cotton and come in a TON of colors.
Planner: Been using this for I think 5 or 6 years now. It is my favorite, helps keep me organized and is also just really pretty 🙂
Pre-lit Tree: I want two of these for outside our front door! Easy holiday decor, sign me up!
Nest Thermostat: We've been talking about getting this for a while. Going to start with one for upstairs (where all of the bedrooms are) for now and see how it goes. It is supposed to save money on the electric/ gas bill which we like the sound of! Plus, you can purchase these little thermometers to put in different rooms so you can have it warmer/cooler in certain rooms of the house. We think this will be perfect to have in the baby's room!
Carpet/ Upholstery Cleaner: Holy cow, we need one of these and this sale is SO good. I've been keeping an eye on the price for about a month and freaked out when I saw how discounted this is right now! Going to clean our couches and arm chairs right when this arrives, I can't wait!
Pre-lit Garland: I may be embarrassed to admit how many different garlands I've looked at online over the past week. Let's just say, A LOT. This is not a fun thing to spend money on (in my opinion) because it's only used for a month out of the year. BUT it looks SO pretty on staircases and will be great for our porches out front. So we'll take advantage of the sale, plus I love that it is pre-lit!
Pretty Garbage Can: We got this garbage can in silver back when we got married and it recently broke. (User error, I think we stepped on the foot pedal too hard, whoops!) So now I see that they have it in white and it's on a big sale. Taking advantage of this offer!
Uppababy Stroller + Bassinet: We already have this so not purchasing today but YOU GUYS. These things never go on sale and our exact color, William, is on sale this weekend! I cannot believe it. If you are in the market for an amazing stroller and bassinet combo, scoop this up!
*There are a lot of deals on baby things right now, check out my entire baby registry to see other savings you can get!
Favorite Sales:

It's no secret that Serena & Lily is one of my favorite stores ever. Above is what we have in our home from S&L, plus a few things extras that are on my wish list!
The Sale: 25% off everything with code THANKFUL – Goes through Tuesday 12/3.
Click HERE (or the photos above) to shop!
High performing, safer skincare for you and your loved ones! Whether you've been looking to make the switch to safer skincare, need to stock up on your favorites or want to get a few gifts now is the time to buy as they rarely have sales!
The Sale: 15% off site-wide and free shipping on orders over $50 – Goes through Sunday 12/1.
What I'm buying: Countertime (the new, AMAZING anti-aging line) Supreme Cream, Countertime Radiance Serum, Counterman shaving cream for Mike, Limited Edition Bright Eyes Treatment Set (I'm obsessed with the eye masks), Glow & Go Mini Oils (these make a perfect gift!), Baby All-Over Wash, Baby Diaper Rash Cream and my favorite ever, Dew Skin Tinted Moisturizer (has SPF 20, I get shade #3)!
Click HERE to shop!
This is the company that delivers grass-fed/ organic meats to our door step! We've been using them for over 2 years now and it is SO convenient.
The Sale: $30 off your first box! Not sure how long this deal will last, so scoop it up ASAP.
Click HERE to get your Butcherbox!
This is where we get our deodorant and a few other things from and we LOVE it. (Read more about why you should switch to a safer deodorant, here).
The Sale:
Now – 12/2: Get 20% off site-wide with code CaitM20! *Please note that the 20% off code cannot be combined with the below offers:
Black Friday (11/29): Spend $50 and get a FREE 1.7 ounce deodorant of your choosing (a $16 value!)
Small Biz Saturday & Sunday (11/30-12/1): Free shipping on all orders
Also worth noting:
Pottery Barn: 25% off + free shipping with code BLACKFRIDAY
Click HERE to shop!
McGee & Co: 20% off with code SNOWWHATFUN
Click HERE to shop!
Wayfair: Up to 80% off + everything ships free
Click HERE to shop!
Terrain: 25% off holiday with code GOODCHEER
Click HERE to shop!