I've been making an effort to post more of my meals on my Instagram story which you guys have been liking and asking some questions about. So I thought it may be helpful to do a quick rundown of what a typical food shopping trip looks like for us!
We do all of our food shopping at Whole Foods, with the exception of when I run into Trader Joe's for flowers and end up buying some of their veggies. But to be honest with you, I think Whole Foods produce is much better quality. Our meat is delivered to our home monthly via Butcherbox. They deliver 100% grass-fed and grass-finished beef, free range organic chicken and other proteins of my choosing to our doorstep once per month! The meat is flash frozen at the peak of freshness, packed with dry ice and shipped directly to our home. We've been using them for over a year and a half, it's SO nice and convenient to just pull something out of the freezer to defrost for dinner. No last minute trips to the grocery store and it's a simple way to eat healthy!
**Right now you can get 2lbs of free ground beef in every order over the lifetime of your membership! Use this link to take advantage of this amazing deal!
Here's a pic of our cart today. We do purchase some extra meat whether it's chicken or sausages (both pictured here) because we eat a lot of protein. I'll also buy wild caught salmon once per week(ish) and scallops a few times a month- both not pictured here.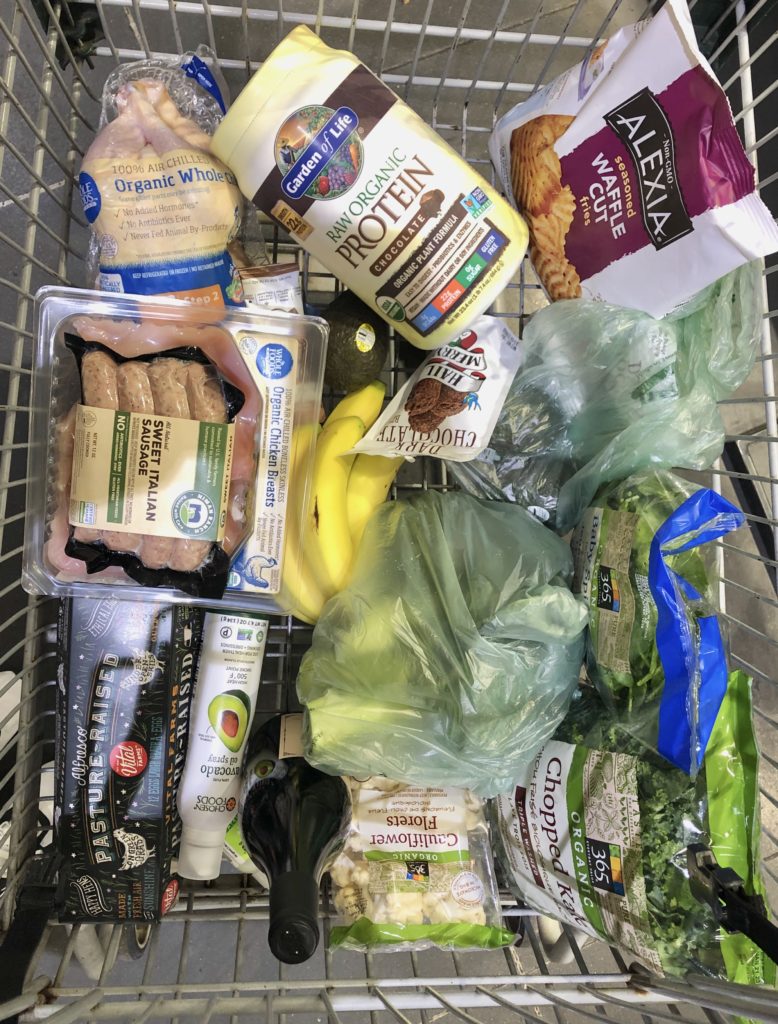 This is a pretty good representation of what our cart often looks like. Let's take a better look at the items:
Protein:
– Organic chicken breasts
– Niman Ranch sweet italian sausage
– Organic whole chicken (Freezing this for future use)
– Vital Farms pasture-raised eggs
– Primal Kitchen collagen packets (can't really see it in the picture but I'm going to try these out in protein shakes)
– Garden of Life protein powder
Veggies:
– Organic chopped kale (we sauté this and have it once/ day at a minimum)
– Organic broccoli (pictured, but hard to see in the bag)
– Organic cauliflower (this is one of those things where I'd rather pay extra to have it already cut and cleaned)
– Organic spinach (for protein shakes and salads)
* Other veggies that we always have on hand: Asparagus (we usually get organic although it's so expensive sometimes we don't), onion, cucumber and radish. I usually have cilantro in the fridge too — I know it's an herb but is it technically a vegetable too? Hmm.
Fruit:
– Bananas (I'll chop these up, freeze them and put 1/4 cup into my protein shakes)
– Avocado: Mike and I both eat 1/2 – 3/4 of an avocado each day
*Not in this shopping trip: Organic apples which I'll sprinkle cinnamon on and dip into almond butter, and frozen strawberries that I'll use in protein shakes (I either put banana OR strawberries in the shake, not both….sugar overload!)
Starchy Carbs:
– A few nights per week we'll have potatoes with dinner. Whether it's the Alexia fries pictured here or I make my own fries. Sometimes we'll have quinoa too.
Miscellaneous:
– Hail Merry dark chocolate: These have been on sale and they're really yummy to snack on so we bought a few packs!
– Wine: Usually cabernet or pinot noir 😉 We probably go through one bottle per week, maybe one and a half but most weeks it's one.
– Avocado oil for cooking or salad dressing. We also use coconut oil, ghee and grass fed butter to cook and put in our smoothies for a healthy fat. (Almond butter, peanut butter and avocado are other healthy fat options for smoothies).
– We always have Califia Farms almond milk too, but didn't need it this trip!
– Flax seed: I buy them whole and grind up at home to put into protein shakes
– Ice cream: Mike loves So Delicious dairy free ice cream so we usually have that in the freezer.
– Gluten free cookies: I love Simple Mills brand and make chocolate chip cookies once every two weeks-ish.
– Jillz crackers: These are my favorite gluten free crackers that have 0 grams of sugar and only 7 grams of carbohydrates!
– Chocolate chips: Always Enjoy Life brand. I would snack on a handful during the day or after dinner. I haven't bought any in a few weeks because I was craving (and giving into the craving) them too much!
– Nuts: We usually have cashews, walnuts or almonds to snack on.
And that just about sums it up! I like seeing what other people purchase because it gives me ideas of ways to mix it up in the kitchen, so I hope this was helpful for you!