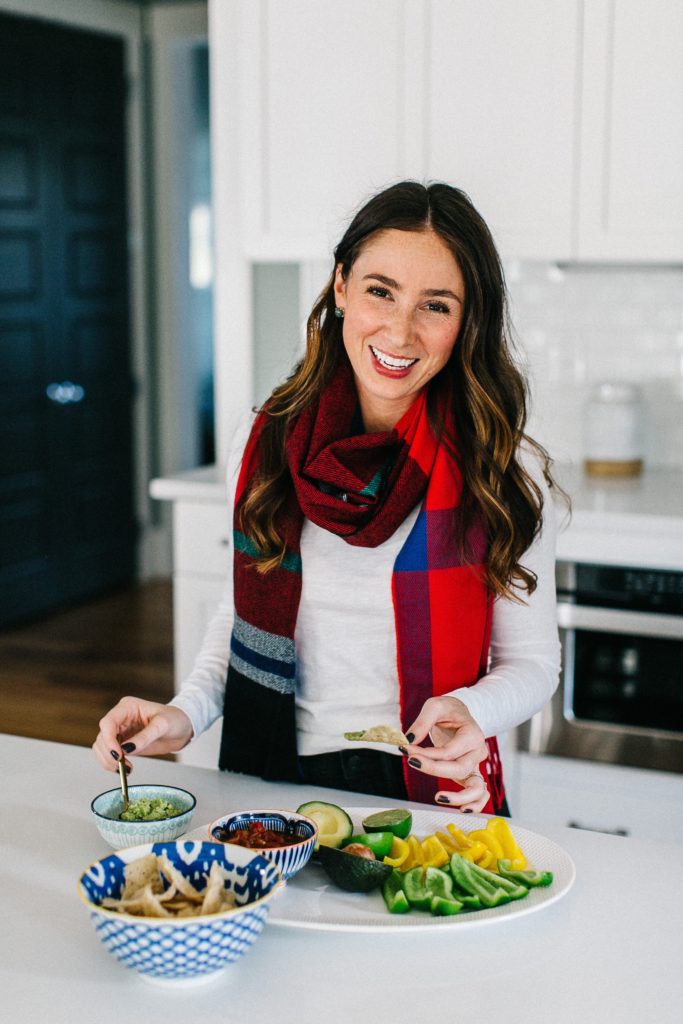 Ok guys, here it is! If you follow my Instagram stories you know that I often post what I'm eating for lunch and/or dinner. Lately, I've been getting some requests to write up what I eat in a typical day. To be honest, I don't find my food habits to be very exciting. I don't really enjoy cooking and therefore meals are always simple. I'm also gluten free and (mostly) dairy free and Mike isn't a big cheese fan, so any yummy Italian dishes that I used to enjoy (but then get a crazy stomach ache after eating) are no longer a part of this household. Ugh. I do miss eggplant parmesan like crazy though! Basically, we grill, make salads and a few other simple dishes. I often find that I'm wanting to post more recipes on here but I feel like I don't cook enough things that require full on recipes. Grilled steak with potatoes and charred broccoli, that's not really recipe worthy, right?
Anyhow, below is a typical day of eating for me. Now a few things to note here:
1. What I eat isn't necessarily what you should also eat. This post is not intended to become your new diet. We each are our own person with different activity levels, metabolisms, food sensitivities/ allergies etc. If this post inspires you to add more greens to your diet then great! But please don't think I'm writing this because I want you to eat the same as me, that's not my intention.
2. I don't eat perfectly. Sure, health and wellness are a big part of my life. So are pizza, wine and chocolate chip cookies. I like to practice a little thing called balance: eat healthy and nutritious foods most of the time and then a bit of the naughty stuff!
So without further ado, here's a typical day of eating:
Breakfast:
2 eggs (I love the brand Vital Farms) with steamed broccoli (or kale) and 1/4 of an avocado. A few days a week I'll have chicken sausage or bacon alongside this, and 3ish days/week I'll have a slice of gluten free toast (Canyon Bakehouse is my fave brand) or 1/2 a Canyon Bakehouse everything bagel with dairy free cream cheese. This is breakfast 9/10 times for me. If I don't feel like eating then I'll make a protein shake, but that's probably only a few times a month.
Morning snack:
I'm not usually too hungry before lunch because my breakfast is filling and holds me over. If I am though I'll make a protein shake or have an apple with peanut or almond butter.
Lunch:
Usually a salad with romaine lettuce and kale, hard boiled eggs, avocado, grilled chicken, cucumber, radishes and a dairy/ gluten free dressing. Other options are leftover dinner from the previous evening or we'll go out and get tacos from a yummy mexican place downtown Charleston or poke bowls.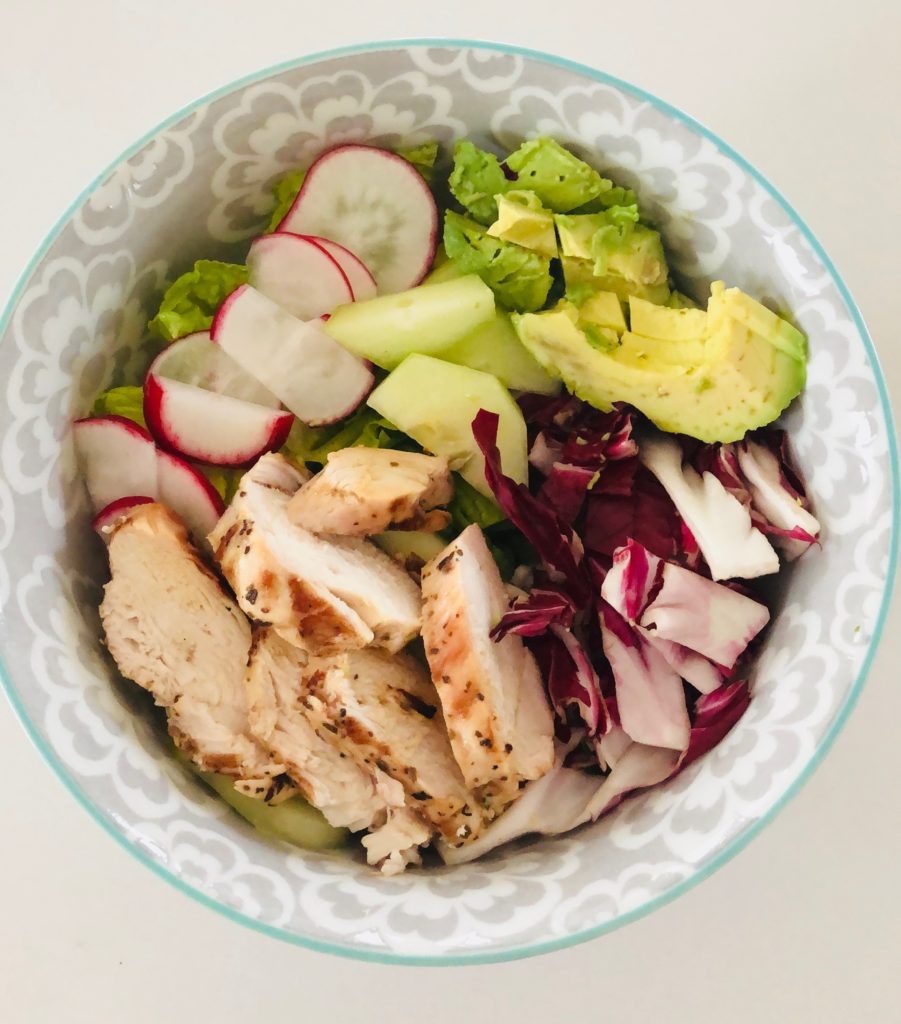 Afternoon snack:
This is where the protein shake almost always comes in. Here's the recipe for the shake!
1 cup almond milk (I love the brand Califia Farms)
2 scoops Protein Powder (I use chocolate or vanilla)
1/2 banana or handful of frozen berries
1tbsp peanut, almond, sunflower or cashew butter OR 1/2 avocado
1 scoop Collagen
A handful of kale or spinach
A sprinkle of cinnamon
A few ice cubes
>> Blend up and drink!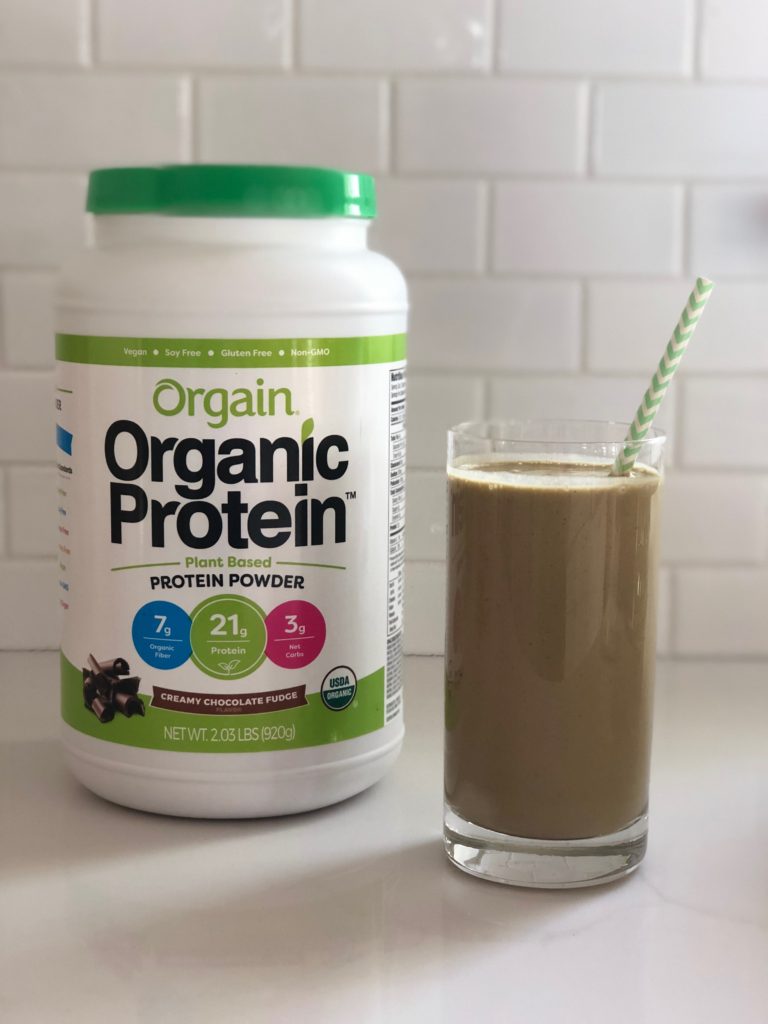 Dinner:
We'll grill up a bunch of organic chicken breasts (coated in olive oil, then seasoned with salt, pepper, oregano, garlic and crushed red pepper) or grass-fed steaks or burgers. Sometimes fish but not as often as I'd like, a little goal of mine is to start making more fish. Along with the protein we'll have a veggie such as: grilled broccoli or asparagus, sautéed kale or brussels sprouts, roasted cauliflower or a salad. If we want a carb alongside dinner (probably 60% of the time) I'll make these french fries or quinoa. If we are having burgers we don't use buns but will top them with avocado and sautéed onions. Another frequent dinner meal is tacos, made with grass-fed ground beef and Siete Foods almond or cassava flour tortillas. I'll throw cilantro, chopped onion and tomato on top of those. Friday nights we usually have pizza, gluten free and usually dairy free for me unless I'm willing to take on a stomach ache 😉 and we go out to eat once a week-ish.
We do eat a lot of chicken and beef. I'm a huge fan of having protein with each meal and want that protein to be great quality. We get majority of our meat from Butcherbox, they deliver 100% grass-fed and grass-finished beef, free range organic chicken and other proteins of my choosing to our doorstep once per month! The meat is flash frozen at the peak of freshness, packed with dry ice and shipped directly to our home. We've been using them since we moved here, it's SO nice and convenient to just pull something out of the freezer to defrost for dinner. No last minute trips to the grocery store and it's a simple way to eat healthy!
I have to tell you about an amazing deal they have going on right now. You'll get 2 free filet mignon, free bacon AND $10 off when you order your first box! Filet mignon is a tender and expensive steak. Butcherbox filets are 100% grass-fed and grass-finished and are raised free from hormones and antibiotics.
Learn more about Butcherbox and take advantage of this special offer HERE!
Dessert:
I love making gluten free chocolate chip cookies and will have 1 or 2 of those. Sometimes it's dairy free ice cream (So Delicious brand) or a handful of chocolate chips.  I really try not to have something sweet every night though, I feel like that habit is a tough one to break and causes more stress/ blood sugar spike/ fat gain than it's worth. If I had to put a number on it, I'd say I have something sweet after dinner 3 nights/ week and ideally I'd like to bring that down to 2.
I know someone will ask, especially because I'm often popping open a bottle of wine on my Instagram stories! I have a glass of wine or champagne maybe 3-4 nights/ week. Sometimes it's 2 glasses on the weekends and then there are weeks when we don't have any alcohol at all. This really varies but I am discovering some wines that I really love and do think it's nice to have a glass with dinner or while reading out on the porch.
And that's it! Not too exciting, right? If you have any recipes or meals you love please let me know in the comments below, I'm always looking to try new things! <3