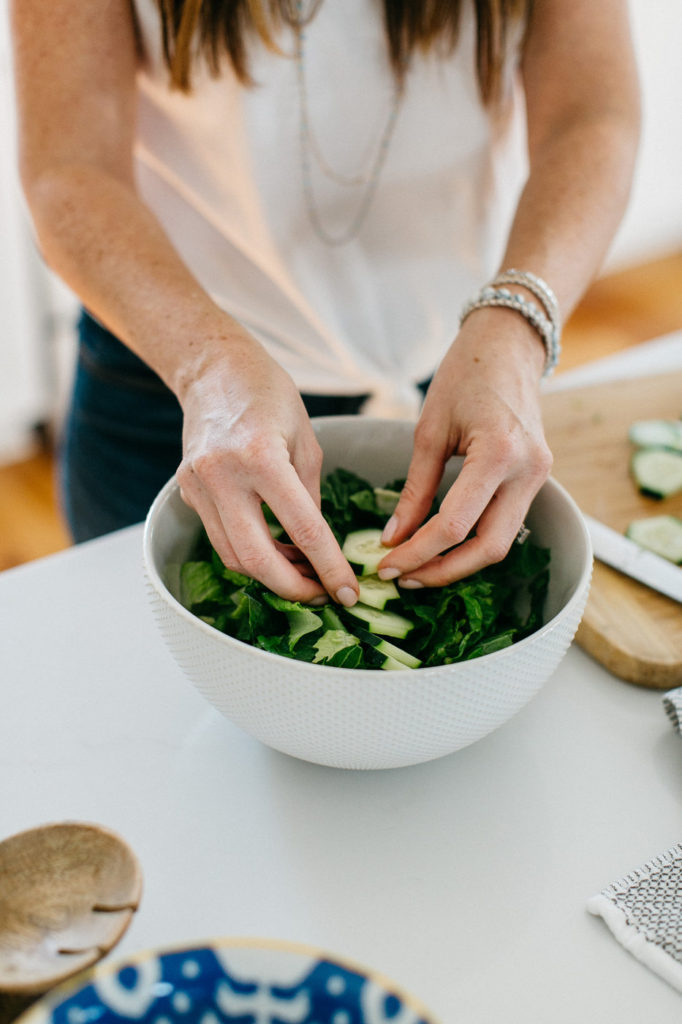 You guys, it's almost the end of July! How did that happen? As usual in the summer we are grilling a lot and I'm also making lots of salads. I find they're refreshing and a good way to get lots greens in while adding some fun toppings (I love roastings some nuts and throwing them on top!).
Here's what we're eating for the week:
MONDAY:
Breakfast: 2 Vital Farm's eggs, steamed broccoli, 1/2 avocado mashed on gluten free toast
Lunch: Bowl of brown rice with black beans, steak, spinach and avocado
Snack: Strawberries with handful of almonds
Dinner: Grilled chicken breast marinated in bbq sauce with grilled cauli and broccoli
TUESDAY:
Breakfast: Scrambled eggs with 1/2 avocado, steamed broccoli
Lunch: Leftover chicken breast with lettuce and tomato on a Siete Foods wrap
Snack: Chocolate Chip PB Oatmeal Balls
Dinner: Grilled flank steak (with this amazing marinade) with Alexia french fries and grilled veggies
WEDNESDAY:
Breakfast: 2 Vital Farm's eggs, sautéed spinach or kale or steamed broccoli, 1/2 avocado or this healthy shake!
Lunch: Leftover steak over romaine with radish, cucumber and walnuts
Snack: Coconut milk yogurt (plain) with sprinkle of cinnamon
Dinner: Baked salmon over salad, leftover french fries
THURSDAY:
Breakfast: Gluten free waffle with almond butter, 1 scrambled egg
Lunch: Grilled chicken thighs over chopped spinach salad with hard boiled egg, tomato, avocado, roasted almonds, cucumber and radish
Snack: Green drink from Whole Foods
Dinner: Date night!
FRIDAY:
Breakfast: 2 Vital Farm's eggs, sautéed spinach or kale or steamed broccoli, 1/2 avocado with sausage
Lunch: Out with friends that are visiting
Snack: Probably a Kind bar or Chocolate Chip PB Oatmeal balls from Wednesday
Dinner: Friday pizza night! (Gluten free for me)