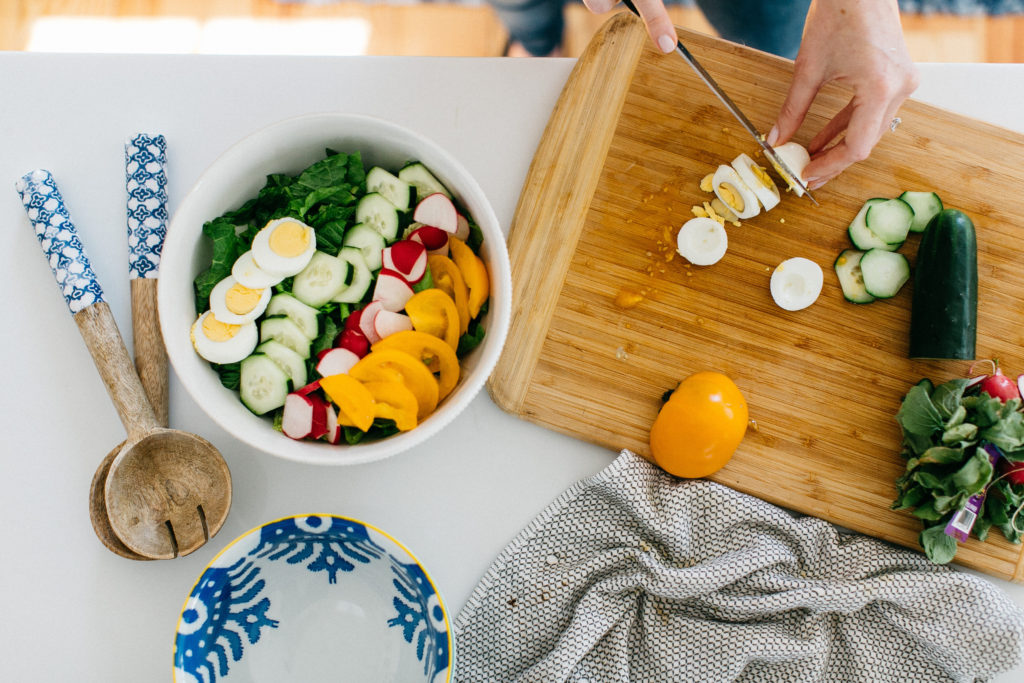 Every Sunday Mike and I sit down and write out our meal plan for the week. This makes life easier in several ways: We know what we need to buy at the grocery store (see our usual shopping list here), we have a plan which leads to less stress around the frequent "Crap, what's for dinner" conundrum, and we eat healthy throughout the week because of this plan. Also, it takes like 5 minutes to decide meals for the week, so it's a no brainer.
Side note: I've mentioned this before: Our meat is delivered to our home monthly via Butcherbox. They deliver 100% grass-fed and grass-finished beef, free range organic chicken and other proteins of my choosing to our doorstep once per month! The meat is flash frozen at the peak of freshness, packed with dry ice and shipped directly to our home. We've been using them for over a year and a half, it's SO nice and convenient to just pull something out of the freezer to defrost for dinner. No last minute trips to the grocery store and it's a simple way to eat healthy!
**Right now you can get 2lbs of free ground beef in every box for the lifetime of your membership ! Use this link to take advantage of this amazing deal!
Here is our meal plan for Monday – Friday:
Monday:
Breakfast: 2 Vital Farm's eggs, sautéed spinach (kale for Mike), 1/2 avocado, breakfast sausage (Mike usually has this each morning, I probably do 2 mornings/ week as I'm not always in the mood for it). Also, we'll add half a Canyon Bakehouse gluten free bagel 2ish days/ week. (They're SO good).
Lunch: Out to eat- Salads with added protein.
Snack: Handful macadamia nuts or cashews
Dinner: Mike- 2 burgers (no bun), asparagus, avocado. Cait- Shredded chicken with chopped spinach, sautéed onion and avocado **Note: We usually don't eat separate meals but I'm weird when it comes to burgers and prefer eating them at restaurants.
Tuesday:
Breakfast: Same!
Lunch: Niman Ranch sausage with steamed broccoli & a few chips or crackers
Snack: Orange slices and handful macadamia nuts
Dinner: Burrito bowls- Cauliflower rice, chopped spinach, sautéed onion, shredded chicken, chopped radish, cilantro, avocado and hot sauce
Dessert: 1-2 squares Hu chocolate bar
Wednesday:
Breakfast: Same!
Lunch: Leftover burrito bowls from Tuesday
Snack: Protein shakes- get the recipe here!
Dinner: Baked salmon with chopped kale and brussels sprout salad, homemade french fries
Thursday:
Breakfast: Same!
Lunch: Leftover salmon (if there is any), BBQ chicken thighs, sautéed kale, leftover fries
Snack: Apple with almond or peanut butter
Dinner: Date night! So probably out somewhere 🙂
Friday:
Breakfast: Same!
Lunch: Leftover chicken thighs and burgers for Mike, steamed or roasted broccoli & cauliflower, avocado
Snack: Macadamia nuts or cashews
Dinner: Pizza night! (Gluten free for Cait) 1-2 Fridays out of the month we end up cooking something instead of getting pizza, which could end up being baked chicken breast with Alexia waffle fries (so good!) and a veggie.
And there's our week! Do we always stick to it 100% of the time? No. We may end up going out for lunch if we need a break from being at home (since we both work from home) and I might snack on gluten free crackers instead of nuts, Mike may have a protein bar. But it is so, so helpful to have everything written out and ready to go.
We all have to make a billion decisions each day. Having a meal plan for the week allows us to focus our energy on other things and makes life easier. It's a game changer for us!