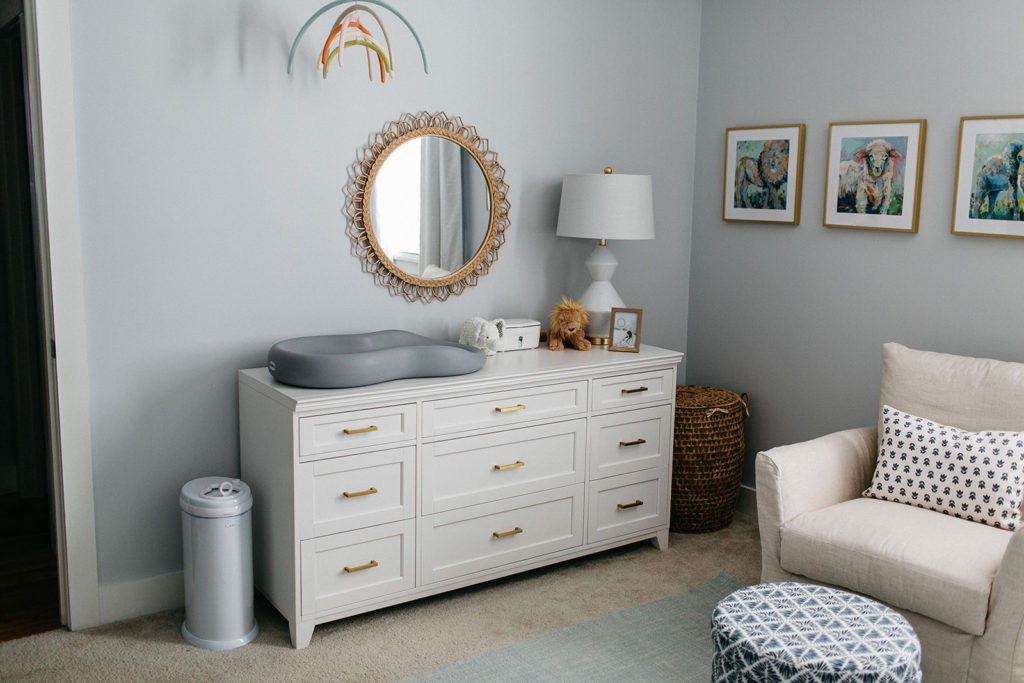 Ah I'm so excited to finally share our gender neutral nursery with y'all! We've always known that for our first baby we wouldn't want to find out the gender. When it came time for me to start thinking about what our baby's room would look like I was up for the challenge of creating a space that would fit a sweet little boy or girl!
Note: All sources and details can be found at the bottom of this post
Posts on CaitMcDonnell.com may contain affiliate links. You can read the full disclosure here. As always, thank you for following this little blog of mine, I SO appreciate your support!
Gender Neutral Nursery Reveal
When designing this room I knew I wanted to keep it light and bright, with touches of gold (duh) and a calming vibe. I also wanted to keep the design and decor fairly simple, allowing me to further personalize the room (going more gender specific if desired) down the road.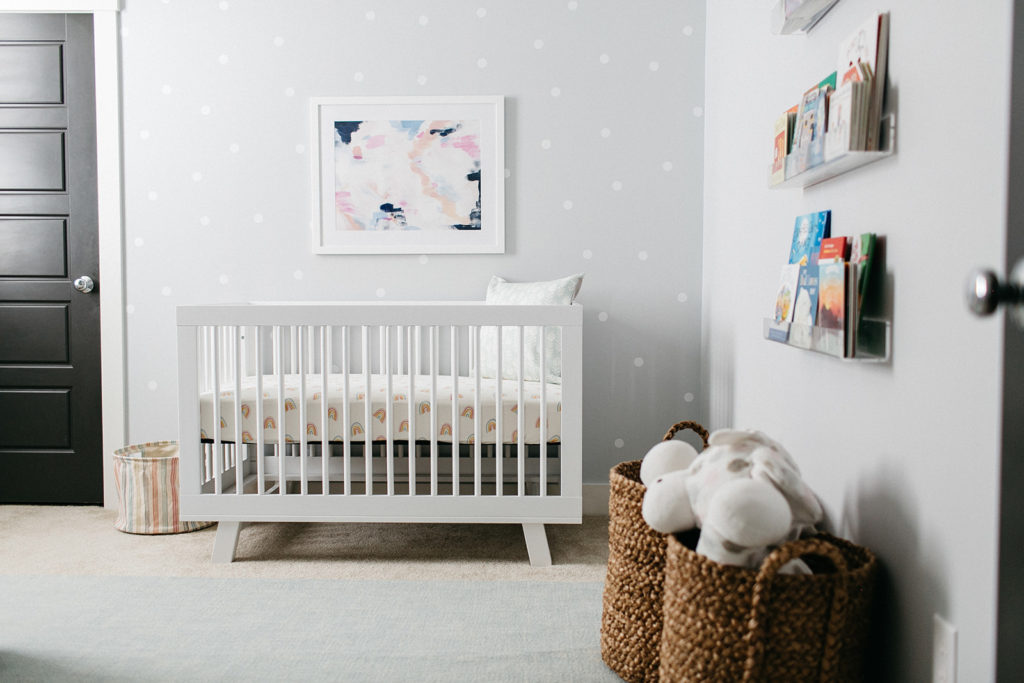 Scroll + Tap to Shop


The accent wall behind the crib was something I went back and forth on. There are so many gorgeous wallpapers out there but not knowing the gender held me back from doing that since it's so permanent. I decided on these wall decals instead. They were inexpensive and super easy to put on. Plus they peel right off! Eventually I'll put up wallpaper, especially now that we have a baby girl because there are many that I love so much.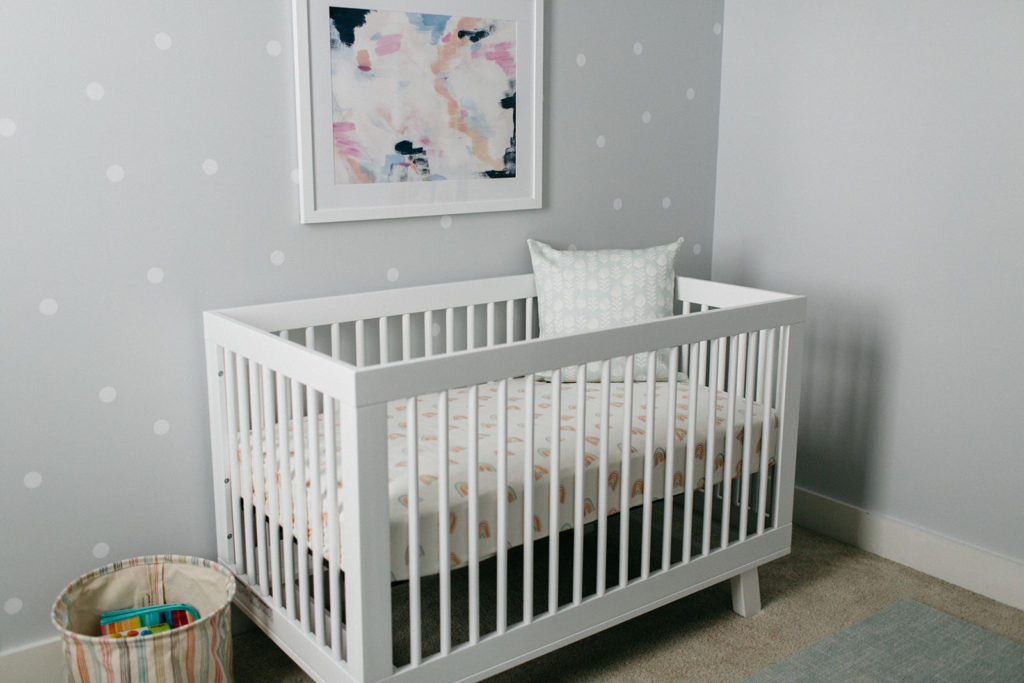 For furniture, I knew I wanted to use organic materials where available (both the dresser and crib are made with non-toxic materials and are Greenguard Gold Certified, you can read more about that in our registry blog post). We ended up taking the dresser from our bedroom and putting it in the nursery, and I changed out the handles to these. The crib is simple and perfect for the space!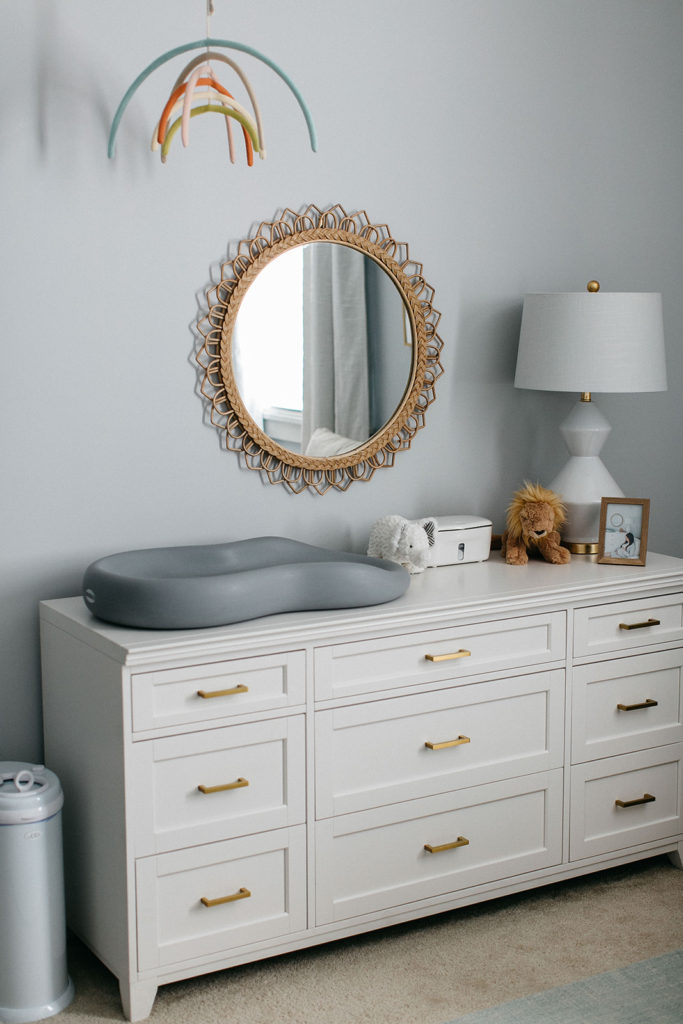 Scroll + Tap to Shop


We got the glider chair from Celadon Home and y'all, it is SO comfortable. We went to the store once every week or two for a few months and sat in every chair they had. I debated getting a custom fabric for it but decided neutral was best. Most of the time I nurse Madelyn in this chair and we all sit in it and read her a book before bed. I love creating these memories in her room.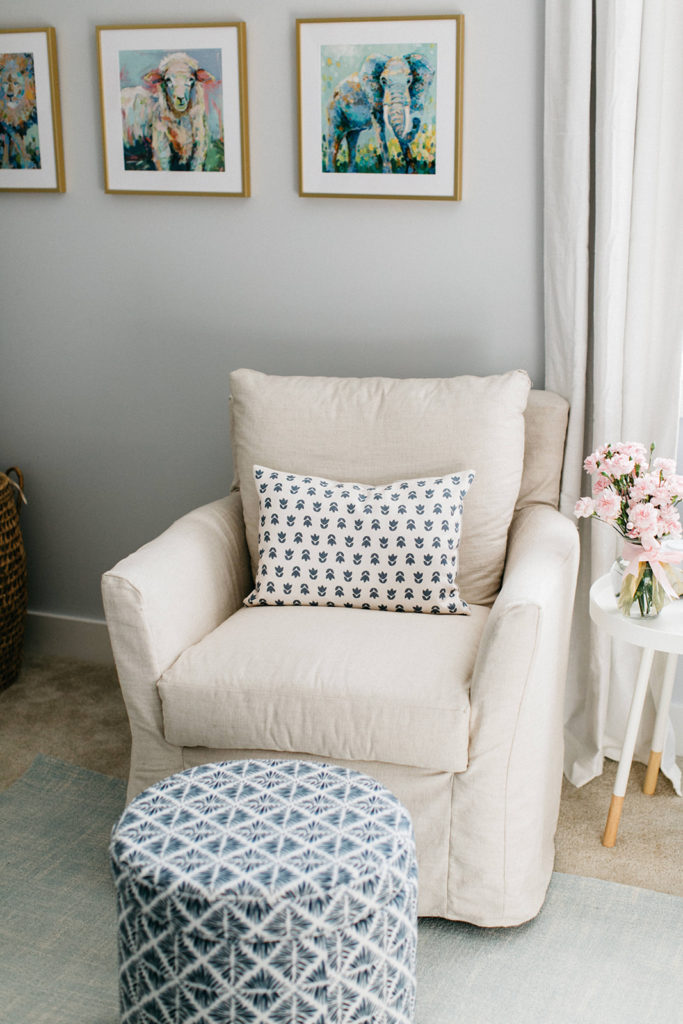 Scroll + Tap to Shop


I went with a simple accent table for next to the glider chair and will probably play around with what I want to keep on there. One thing that I love though is the photo of my Dad holding me in my nursery the day my parents brought me home from the hospital. Knowing she won't ever get to meet her Grandpa, it means a lot to me to have a picture of him in the room.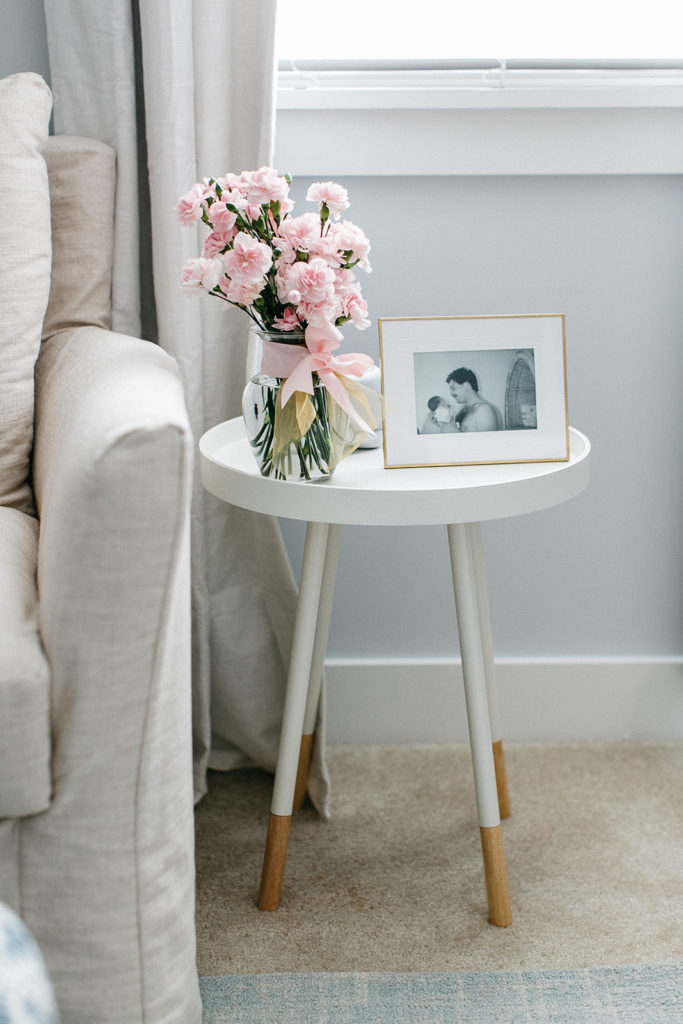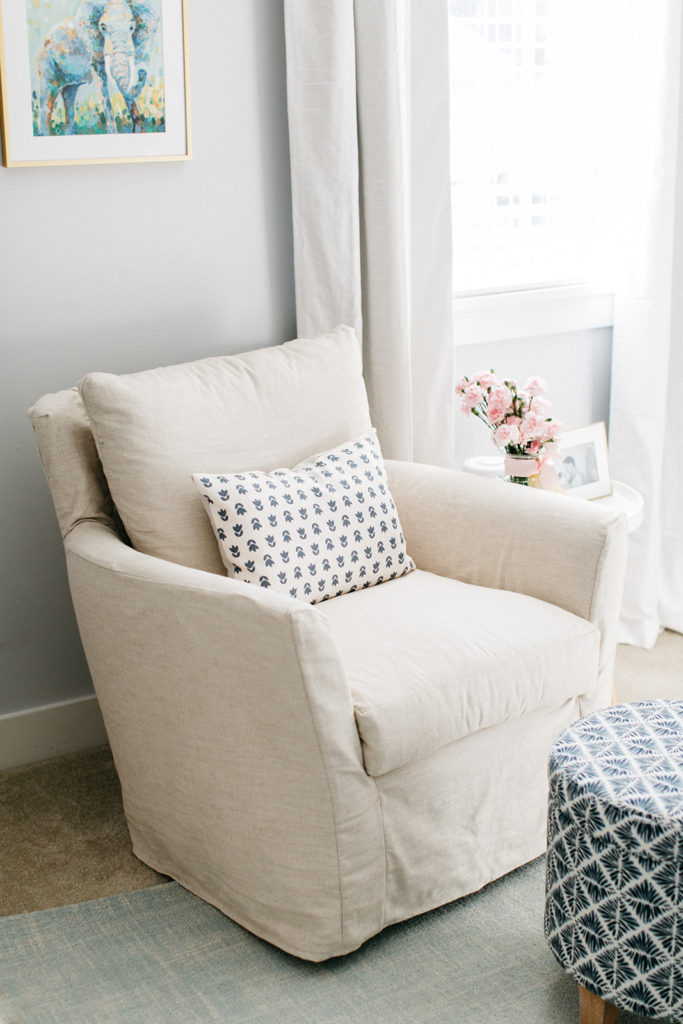 I wanted to bring a bit of color and pattern into the space and when walking around Target one day found this ottoman. It just jumped out at me and I knew it would be perfect for a gender neutral nursery! It opens up for storage too which is really cool and will come in handy for keeping toys out of sight.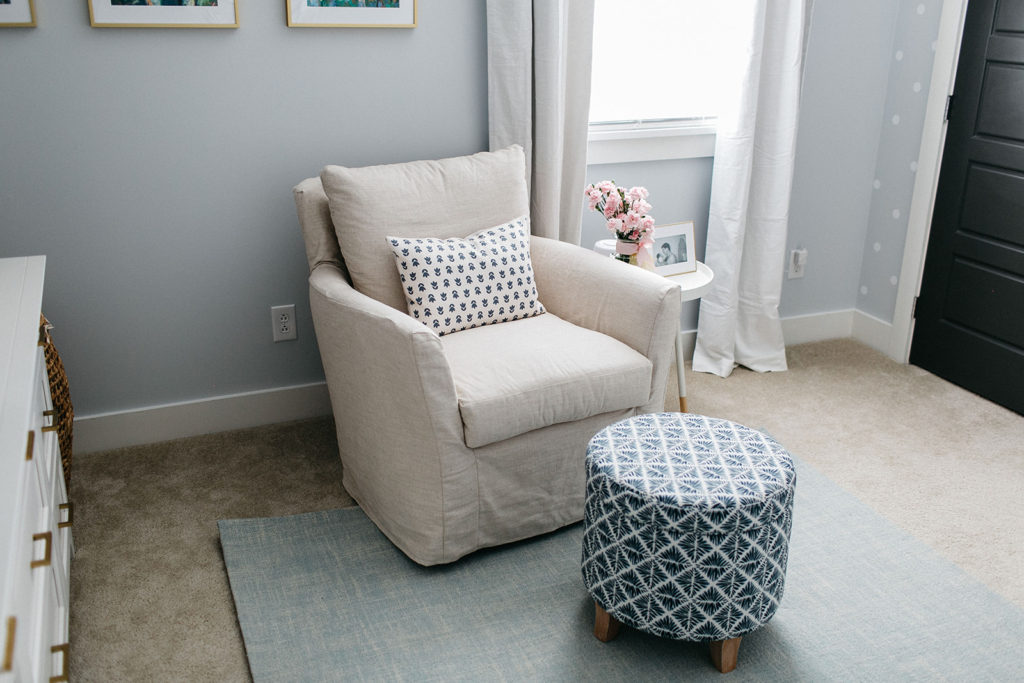 Scroll + Tap to Shop


Annie Selke gifted us the area rug and I am beyond obsessed with it. I was being really indecisive about what color I should use for the room and when I saw this on their website I fell in love immediately. It is wool and holds up well in high-traffic areas. We have the sky color and it is so perfect for a little girl or boy's room (or anywhere in the house, really!).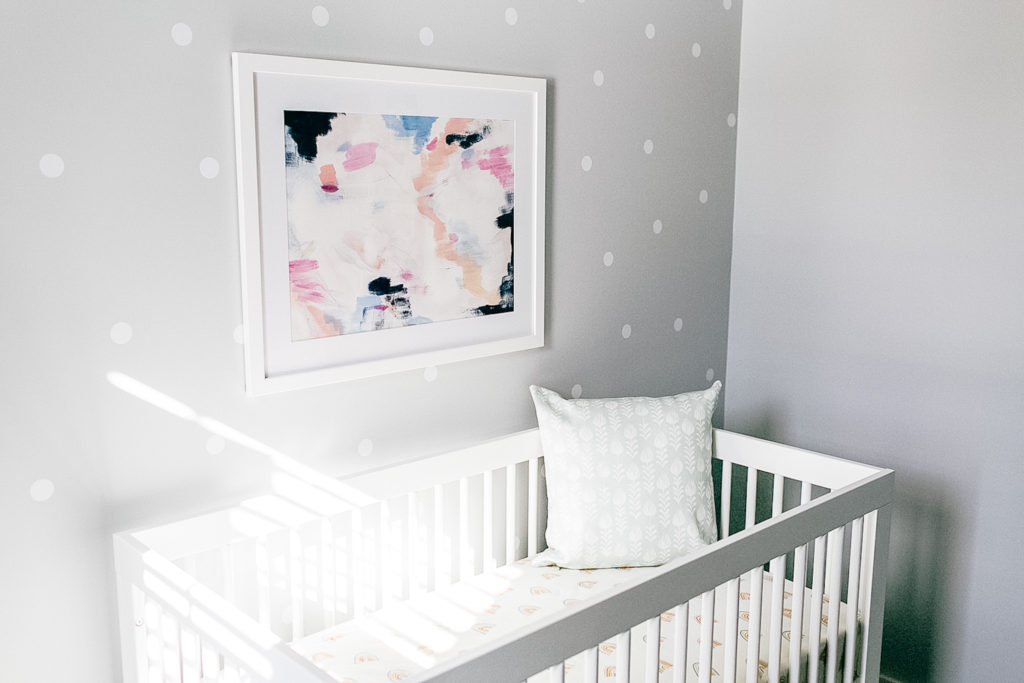 For art, I wanted a piece over the crib that was a little different. Mike and I found a few abstract pieces online and ultimately chose this one. I will say, when it came in the mail we did think it was a bit on the girly side, but luckily we ended up having a girl! And if we did have a boy, we would've kept this piece anyway.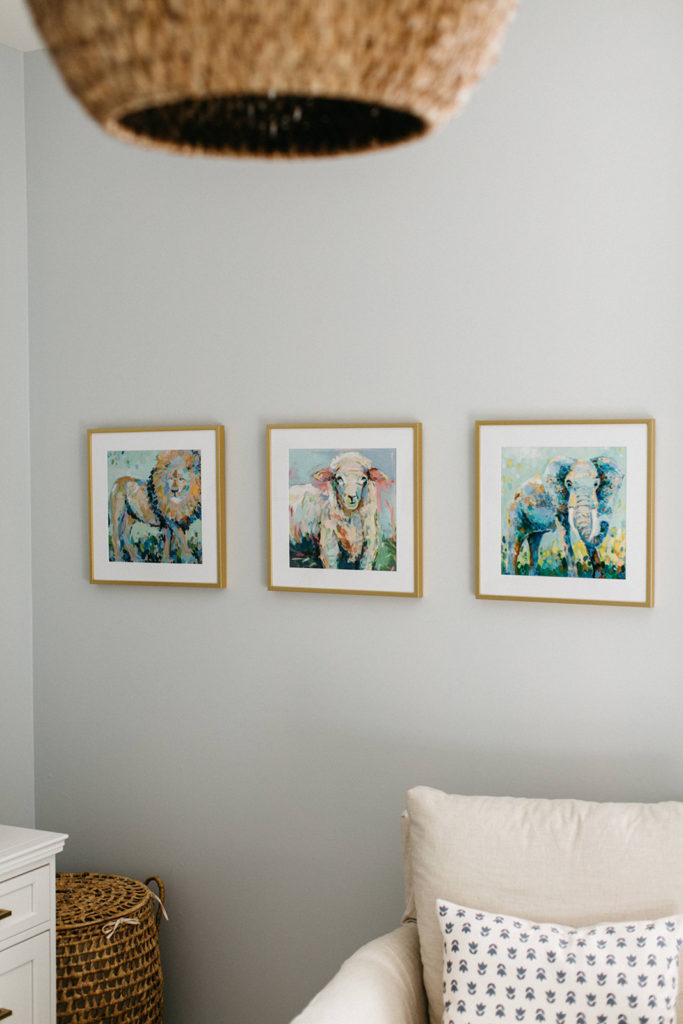 I had a vision to hang three prints for the wall behind the glider chair and probably spent a good 4,000 hours searching for the perfect fit, ha! Then, I was working with an interior decor client for her living room and came across C. Brooke Ring. She's a local artist in Greenville, SC and her prints are stunning. I found the perfect piece for my client's space and fell in love with her animal prints for our nursery. Brooke was gracious enough to gift us three sweet animal prints and they are perfect!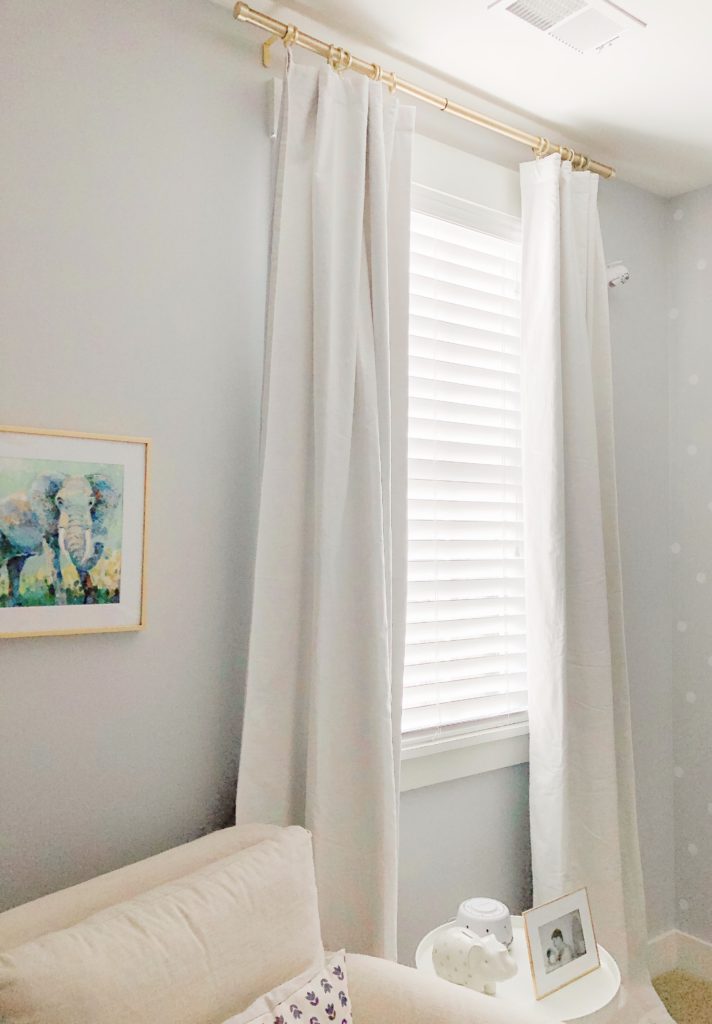 Scroll + Tap to Shop


The sunlight hits the room beautifully during the day but that means we needed blackout curtains for when baby naps. These linen curtains are stunning and I love how the brass curtain rod and rings dresses them up a bit more.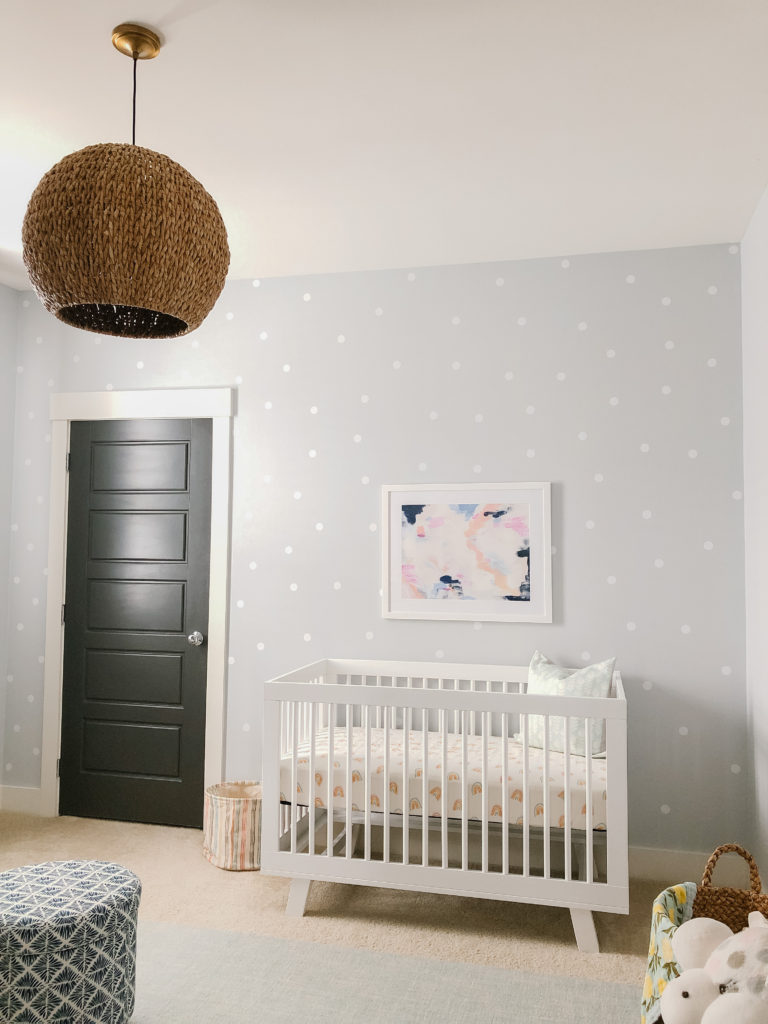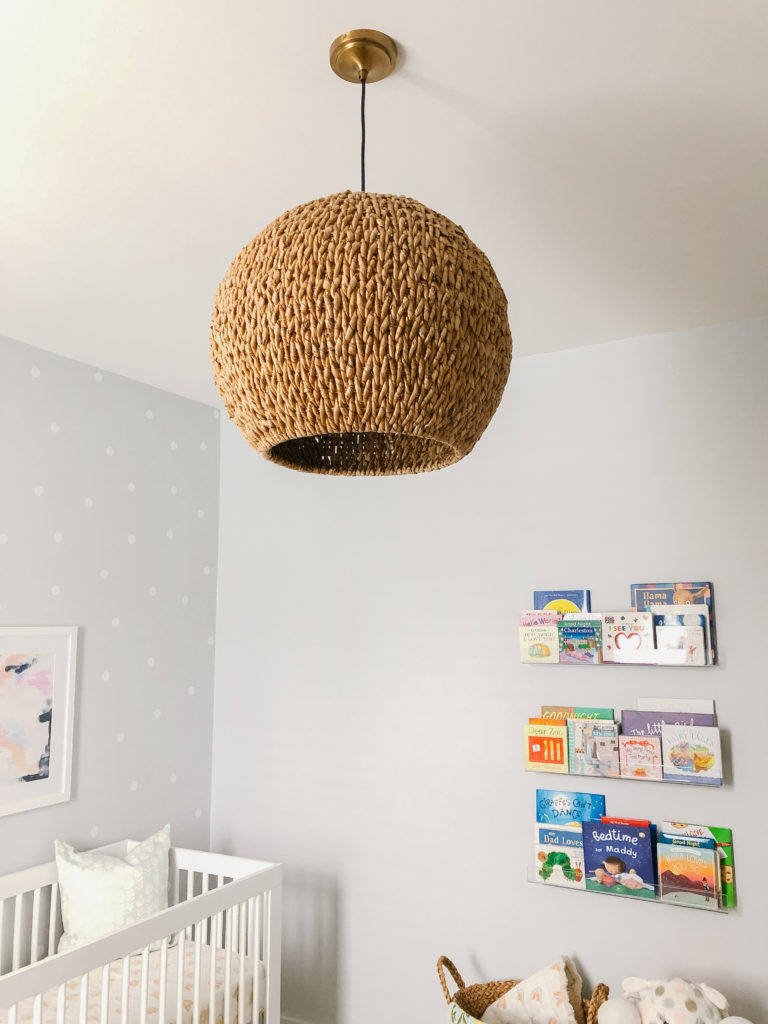 Scroll + Tap to Shop


When I was browsing nurseries on Pinterest, I saw one with acrylic shelving for books and liked the idea. I love that we can see the entire book and the bottom isn't blocked off by the shelf's ledge. These are the ones we went with and I'm thinking about getting more, I love them so much!
For lighting, I wanted a piece that would be a statement in the space and went with this rattan pendant. I love the natural element it brings into the room. It doesn't emit much light, I actually love the ambiance in the evenings when we're reading her a bedtime story. A fun bonus with this pendant is the gorgeous pattern it casts onto the ceiling. Not something I can really capture with a camera but trust me, it's pretty! We do have this lamp on the dresser when we're in need of more light though which also has a touch of brass to tie into the space.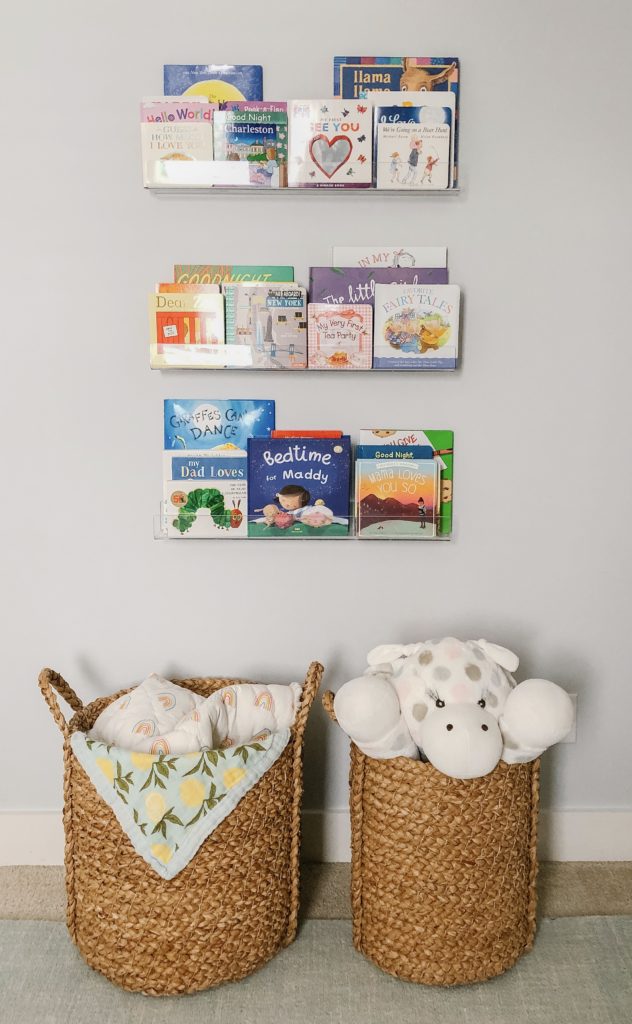 Scroll + Tap to Shop


To continue with the natural element the rattan pendant brings into the room, I bought these large baskets to put under the bookshelves (great for storing blankets, animals and toys). I also found this rattan laundry hamper which fit perfectly in the nook next to the dresser. To complete this look I went with a rattan mirror from Celadon Home to go above the dresser.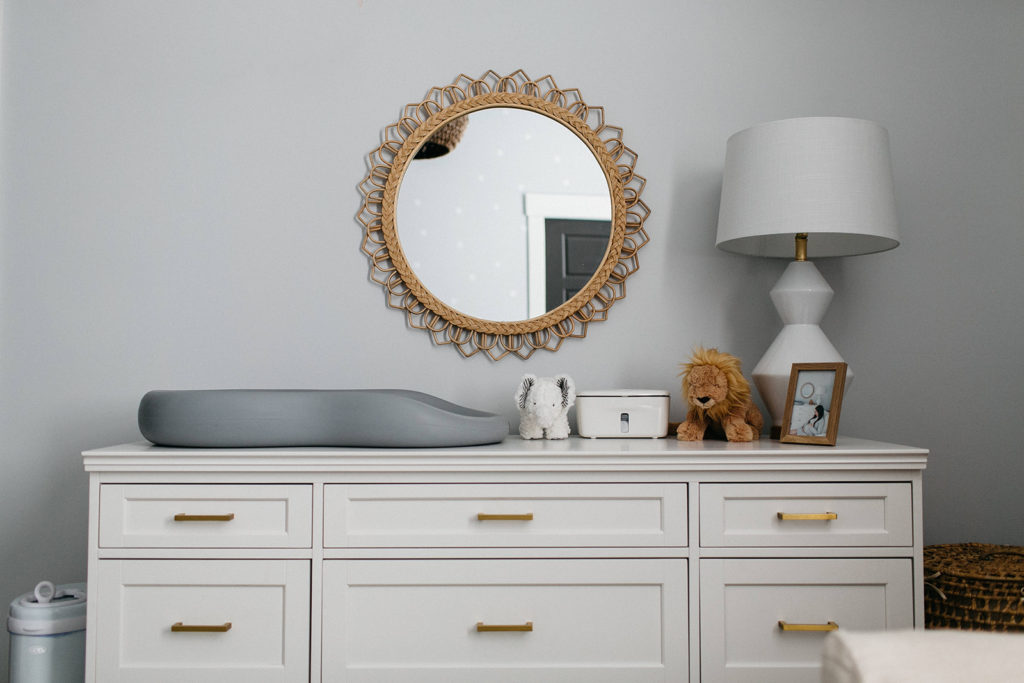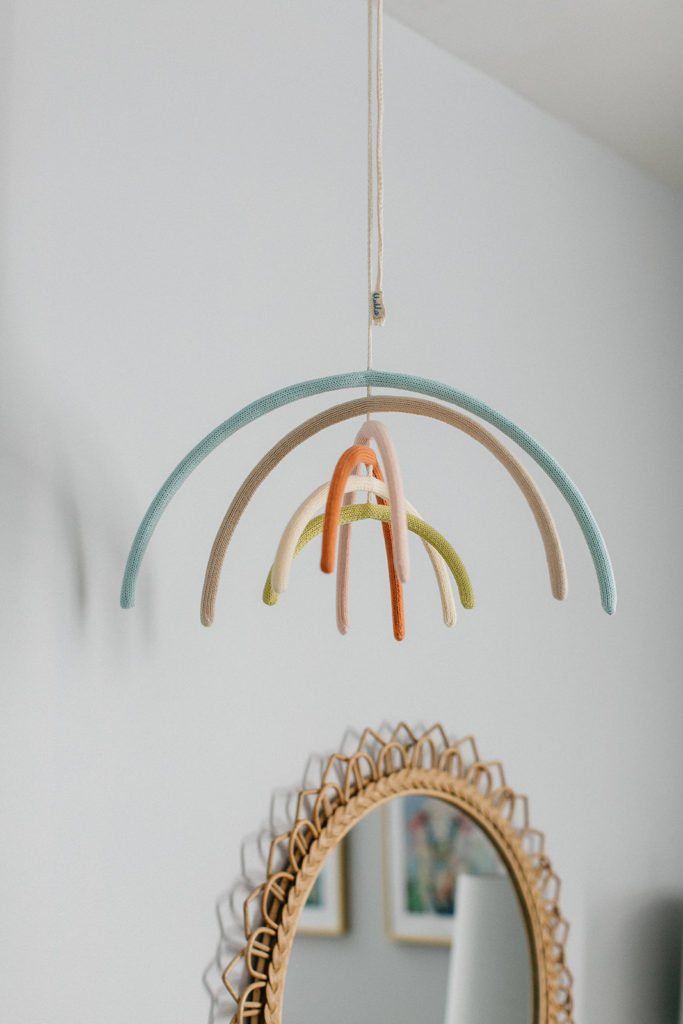 The rainbow mobile (also from Celadon Home) is one of my favorite touches of decor in the room. Perfect for our little rainbow baby. I also love the prints on the pillows (from Jolie Marche) on the glider and in the crib. And don't get me started on the rainbow sheets, they're the sweetest!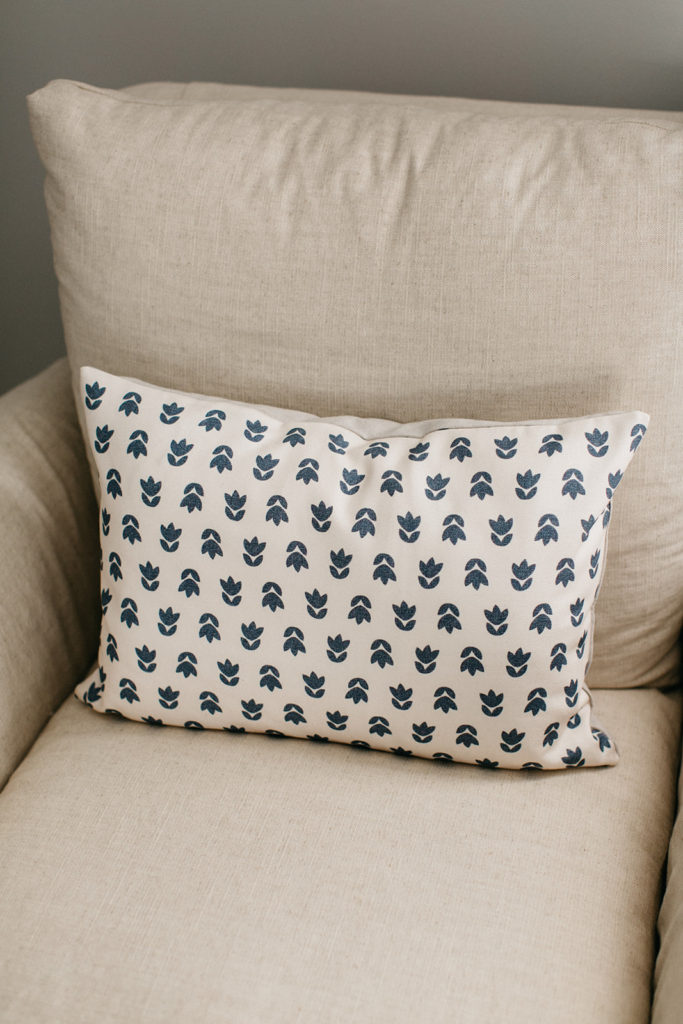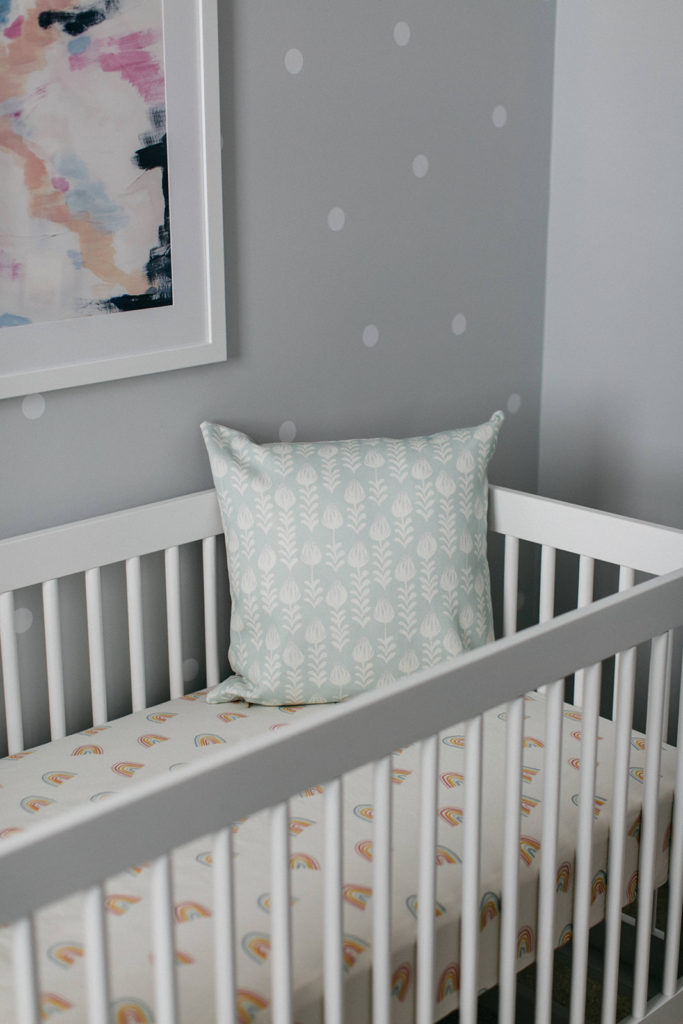 Our gender neutral nursery is the most precious room I've decorated thus far. Since we now have a baby girl I'm sure I'll end up putting a few feminine touches here and there but I am so happy with how it came out. If you liked this, get ready for her closet reveal, coming soon. Let's just say Madelyn definitely has the most organized closet in the house and I'm a little jealous of it! Thank you so much for following along on our baby journey, it means the world to have you along for the ride <3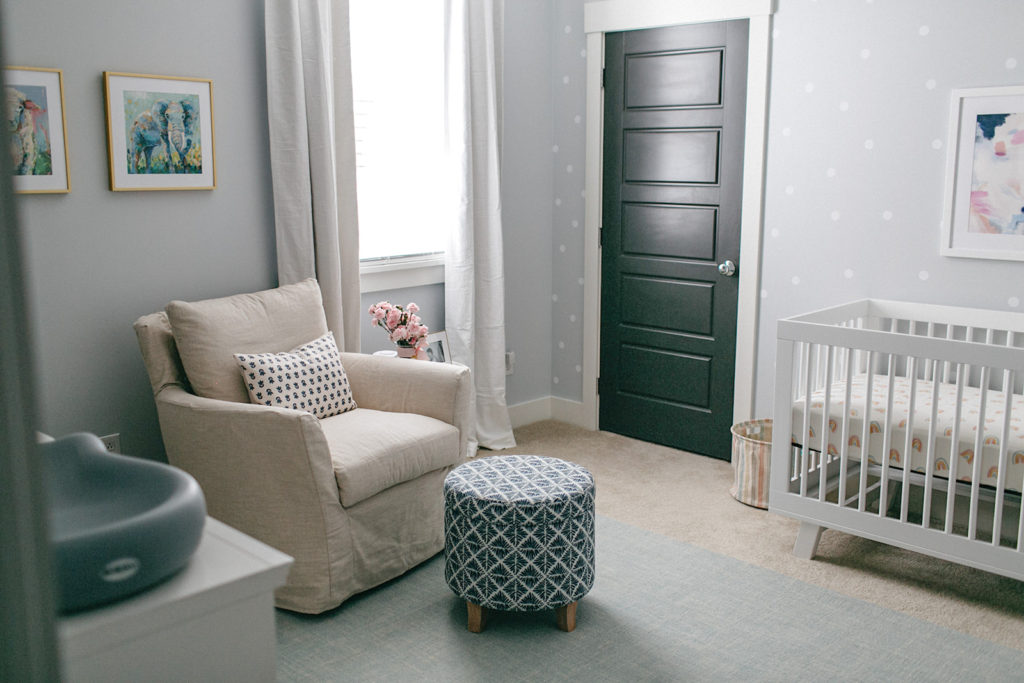 Scroll + Tap to Shop


Other posts you might like:
Madelyn's Birth Story
Our Baby Registry
What's in Our Hospital Bags
Favorite Pregnancy + Parenting Books
The Truth About Miscarriage

Room Sources + Details:
Wall Paint: Olympus White by Sherwin Williams
Wall Decals
Furniture: Crib | Dresser | Glider is from Celadon Home | Ottoman | Side Table | Dresser Pulls
Lighting: Rattan Pendant | Table Lamp
Windows: Blackout Curtains | Curtain Rod | Curtain Rings
Art/ Wall Decor: Abstract Print (24×18) | Animal Prints by C. Brooke Ring (12×12) – All framed by Frame It Easy | Rattan Mirror from Celadon Home | Rainbow Wall Hanging (available in several colors)
Textiles: Pillows from Jolie Marche | Rainbow Crib Sheet | Rainbow Play Mat | Annie Selke Rug
Decor + Toys: Braided Storage Baskets | Rattan Laundry Hamper | Acrylic Shelves | Canvas Basket | Rainbow Stacker Toy | Giraffe Stuffed Animal (XL size) | Rainbow Play Mat | White Noise Machine