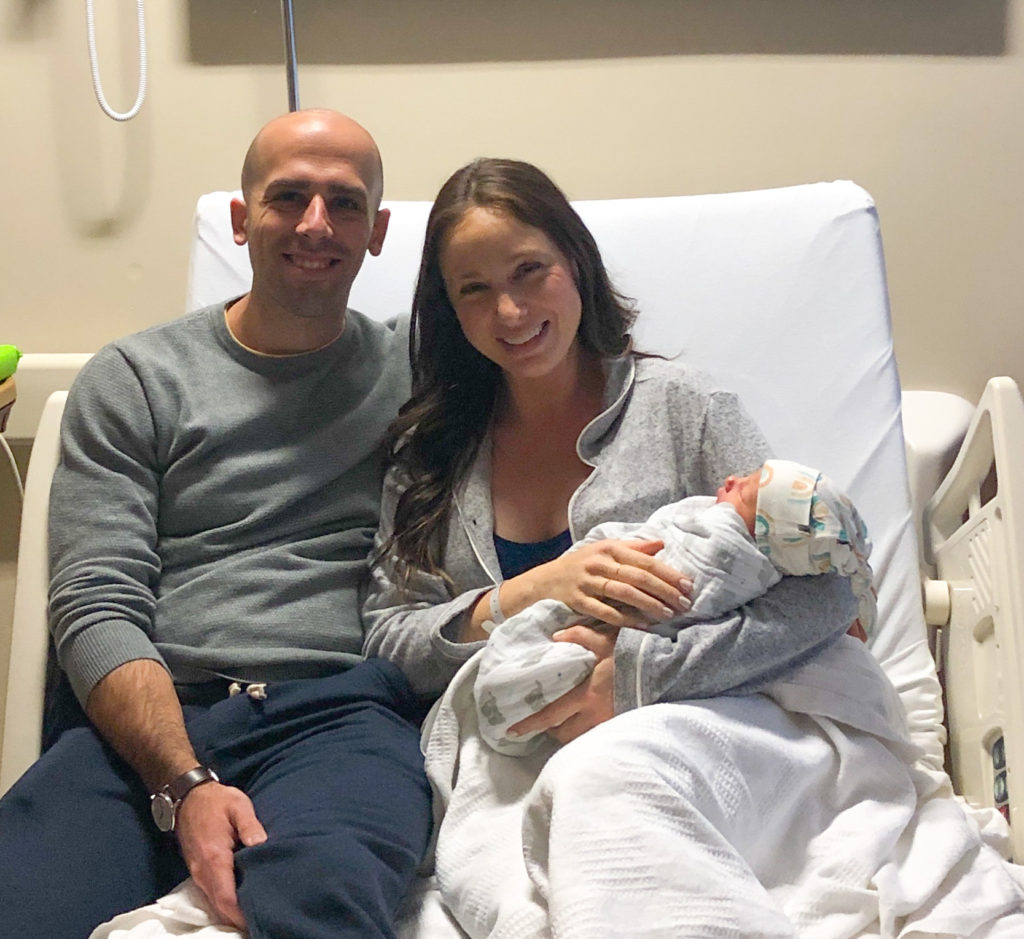 I'm so happy to finally share Madelyn's birth story with y'all! While pregnant, I tried not to read too many birth stories because I didn't want to have expectations based upon someone else's experience. Looking back now I am able to say that we had a very positive experience and I feel so grateful for that.
We had our birth plan ready to go though we knew this was not something you could plan out. The things that were most important to us were:
Interventions only following the opportunity to discuss with my husband and doula
Minimal internal exams
Wireless monitoring so I could move freely prior to epidural
Epidural received after 6cm dilated (this was decided with the help of my doula who said sometimes epidurals given before you're in active labor can slow down the entire process).
Natural water rupture
Let's get into the details:
If you were following along on Instagram, you know that Maddy Grace decided to stay in her cozy home in utero for as long as possible. Our due date was 12/9 which came and went with no baby. For the next week and a half I was going to the doctor several times per week to check fluid levels and monitor her activity. My doctor was wonderful and knew how much I wanted to go into labor on my own. She said the latest she'd allow us to wait was 12/19 (41 weeks, 5 days) and so we scheduled an induction for that afternoon.
I tried ALL of the things to get my body to go into labor on its own. Spicy food, lots of long walks, squats, red raspberry leaf tea, etc. On Wednesday 12/18 I made an acupuncture appointment as a last ditch effort. My acupuncturist specializes in women trying to conceive and those who are pregnant so if anyone knew what to do, it was her!
She worked on labor induction points and did reiki. She also told me she thought we were having a girl AND asked if one of our name options started with "Ma" – I basically fell off the table when she said that!
That evening Mike and I went out for our last date before baby. We had an appointment scheduled for 11am the following day where my doctor would check me and most likely send us over to the hospital to start the induction process.
On our way to dinner I felt a little bit crampy, but I had been having contractions come and go for 2 weeks and then they'd disappear a short while later, so I didn't think much of it. They continued throughout dinner so I mentioned it to Mike but we carried on as usual and finished our dinner. Once we were home, we hung out on the couch and mild contractions were happening every 20 minutes or so, then they seemed to fizzle out. We went to bed and at 1:00am Thursday, 12/19 I woke Mike up with more consistent contractions. They weren't very intense but I wanted to call my Mom who was scheduled to fly down from NY Friday 12/20, she ended up changing her flight to Thursday afternoon just to be safe.
I got sleep when I could early Thursday morning as contractions were still very mild and not too frequent. We had breakfast, got our bags together and planned to go to our 11am appointment knowing she'd most likely send us over to the hospital since our induction was scheduled that afternoon.
I was bummed. It seemed my body sort of wanted to start the process on its own but I didn't think things were progressing and knew that if that were the case, I'd be given pitocin as originally planned for that day.
During the doctor appointment I was still having some mild, infrequent contractions. Doc said I was 80% effaced (was 60% a few days prior) and 2.5cm (I had been 1cm for the 3 weeks leading up to this day). Progress! She was pleased with how I was doing/feeling and said I could take one more night to see if my body would do this thing on its own.
I was SO happy to be given this last chance! Our induction was moved to Friday, 12/20 at 4am. We went out to lunch and then hung at home for the remainder of the day. By the afternoon contractions were stronger and more frequent. I was hanging out on the couch or walking around the house, breathing through them and trying to distract myself.
We tried to sleep for a bit that night but I couldn't get comfortable. I was a little bummed because I only slept 3ish hours the night prior and wanted to feel rested in order to push baby out when the time came. But not much I could do about that! by 11:00pm my contractions were 5 minutes apart and lasting for about a minute, sometimes longer. Mike called our doula who told me to get in the shower for a bit (which felt really good!) and to try to eat something. By 1:00am we were packing up the car and saying bye to our Moms who were both staying at our house while we were in the hospital. Contractions were intense but I could get through them with some deep breaths and hunching over a little.
Throughout the pregnancy Mike and I would talk about what the ride to the hospital would be like. It was a little surreal to be in the car, on our way to have our baby! I had two contractions in the car and just squeezed his hand to get through them. The roads were so quiet and it was sort of nice!
I was checked into the hospital by 2:00am, two hours earlier than when we were scheduled for the induction. Our doula arrived and did some massage to help open my pelvis. The doctor on call came in at 3:00am to check me, I was 90% effaced and 4.5cm! She said we no longer needed to induce, woohoo!
We spent the next few hours taking cat naps, walking around the hallways and getting into different positions to help with the pain thanks to our doula. After shift change at 7:00am the new on call doctor came in (who we had met before and loved!) and said I was 100% effaced and 6cm. We walked the halls some more and I ended up getting the epidural at 9:30am. I didn't want another internal exam but the doc said I was most likely just shy of 8cm and about to start transitional labor.
I was super nervous to get the epidural but that process ended up being easy peasy. However, I pretty much hated the feeling of having an epidural. Not being able to move my legs and feeling dizzy (keep in mind I have a major fear of vomit) were no fun. I did get used to it after a while but overall was just not a fan. Minus it taking the pain away, that part was great!
By 2:00pm I was fully dilated and the doctor told us to try to sleep for a bit before it was go time. When she checked me this time she said my water broke and there was also a bit of meconium in it. She told us not to be alarmed by any means, but that there would be a few extra people in the room during delivery who were part of the respiratory team, if need be.
I started to take some practice pushes at 4:15pm and by 5:00 we were in a nice rhythm of pushing and waiting for the next contraction with the nurses and doctor. We had on our "hardcore" playlist and were actually rapping to Notorious BIG with our doctor between contractions!
Throughout this part I was annoyed because I couldn't feel anything. (Duh, that's what you get for having an epidural, Cait). But I could only feel a tiny bit of pressure, and when they told me I did a good job with a certain push, I couldn't distinguish that from a not-so-good push. That being said, the whole pushing process was much better than I envisioned. I guess I had images from movies in my head with women screaming a lot! At one point I looked at Mike and told him he needed to go tell one of our parents to go home to feed the dogs. They all got a kick out of this and told me the dogs would be ok 🙂
My doctor did put a mirror at the bottom of the bed so I could see the progress with each push. That may not be everyone's cup of tea but I liked the visual feedback. Also, they took it away for the last few pushes before baby came out so I wouldn't be able to see if something happened to go wrong, or if I tore (which I didn't want to see either).
We had decided that Mike was going to call out the sex of the baby and I remember a moment when I got SO excited because I could clearly see the head and a good bit of hair, I even reached down to touch it (is that TMI? Sorry!). Three more big pushes and at 5:44pm Mike was crying, telling me that we had a baby girl.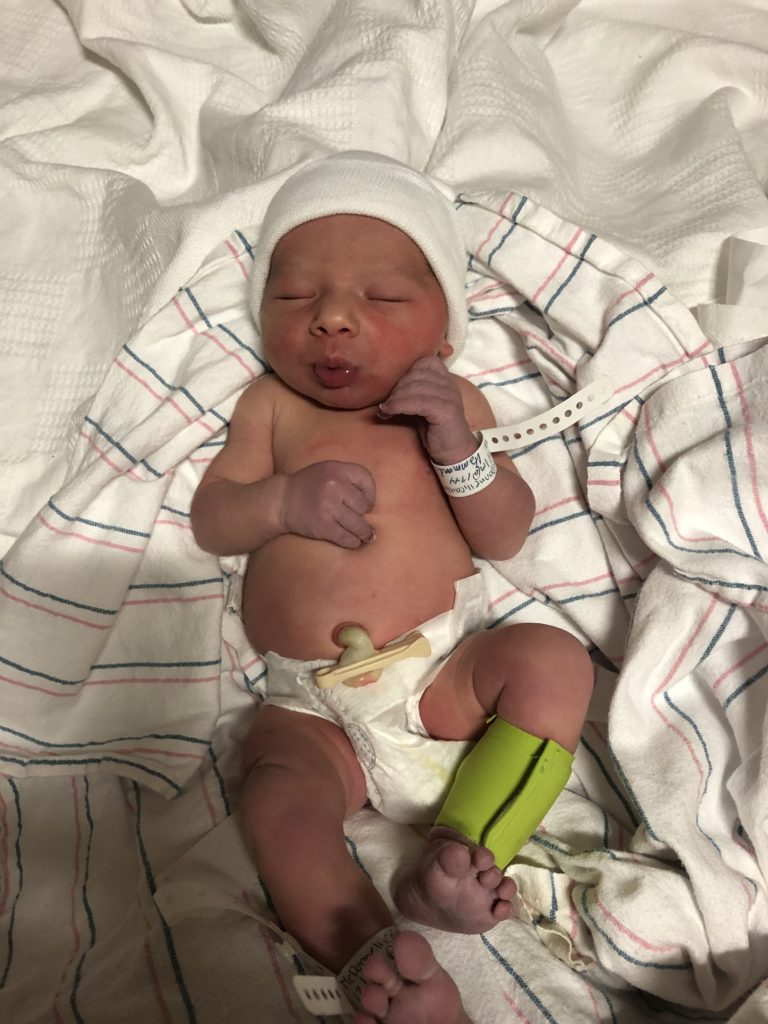 I was in shock. Throughout the entire pregnancy neither of us were sure of the gender. I hear people say "I just know in my gut this baby is a boy." Or, "mother's intuition is telling me this baby is a girl." We just didn't know! We had said at one point that if we HAD to choose, we both would've said girl. However, 90% of people were guessing boy and after hearing it so frequently, we both just assumed it was going to be a boy!
So yes, I was in shock. I had a sweet little baby girl on my tummy, but she wasn't crying. They delayed cord clamping as much as they could (as written in my birth plan) but then Mike was instructed to cut the cord and the respiratory team was all around with the head of the department saying "Cry baby, cry."
"Come on baby, cry baby, cry."
I was totally freaked and this felt like it was going in slow motion. They took her over to the warmer and continued to tell her to cry, suctioning and doing what they could to encourage her. They did call Mike over so he could watch which made me feel better. Finally little bursts of stop-and-go crying lead way to a full on newborn cry. They brought her over to the scale, wrapped her in a blanket and then she was back on me for that skin-to-skin that I longed for.
This whole process seemed like a year, but our doula said it was 2 minutes tops. We were told that the meconium was a non issue and she was a healthy baby girl weighing in at 7 pounds 1 ounce, and 20 inches long.
We are so grateful for the entire birth process. I am still so happy to have gone into labor on my own (I guess that acupuncture really worked!). We are so in love with our sweet Madelyn Grace, and will forever be replaying the moment we met her over and over again in our minds.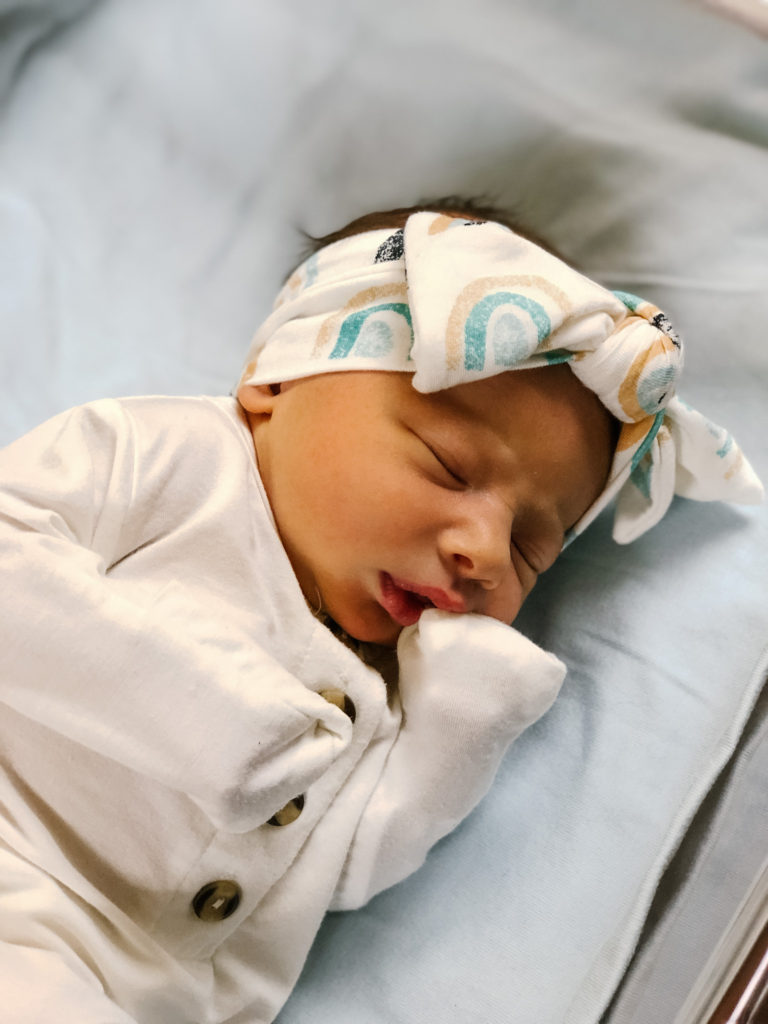 More Posts Like This:
Our Baby Registry – with tons of non-toxic options!
What We Packed In Our Hospital Bags
Favorite Pregnancy + Parenting Books
Miscarriage: The Truth No One Talks About