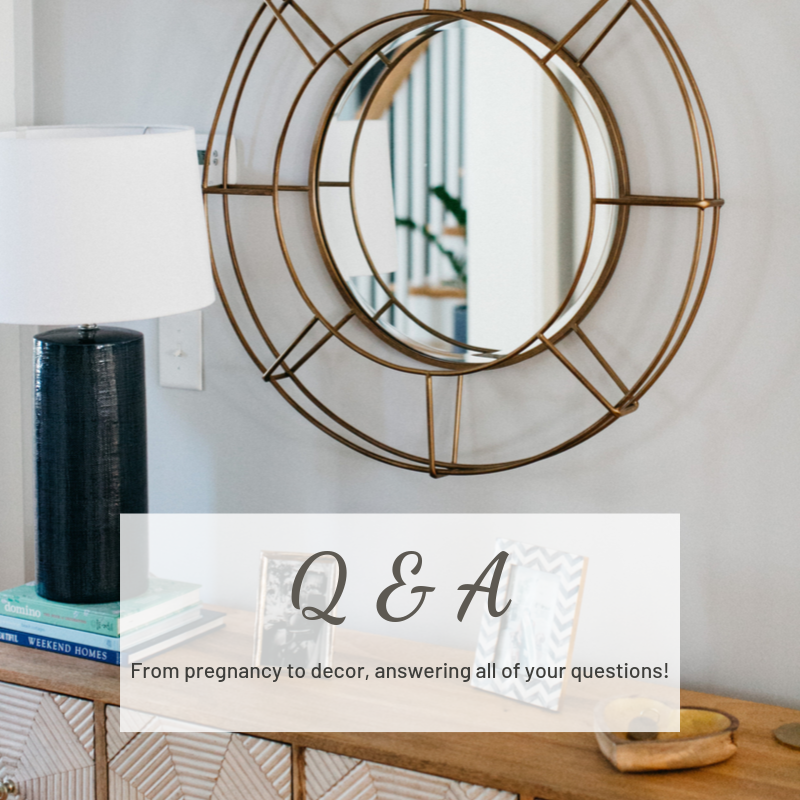 Please note that some of these links are affiliate links which helps me keep this blog up and running, at no extra cost to you. Read my disclosure policy here.
I thought I'd try something new on Instagram and told y'all to ask me anything! Here's what you came up with, and my answers 🙂
Q: How old are you?
A: I turned 33 on September 9th
Q: What's your favorite decor piece in my house right now?
A: Our new counter stools, for sure! I'm obsessed. You can read all about them here and if you're reading this before 10/15 they're currently 20% off!
Q: What are your favorite pregnancy books?
A: Good question! I am going to do a post all about pregnancy books but here are a few of my faves so far:
– Moms on Call
– Real Food for Pregnancy
– The Mama Natural Week-by-Week Guide to Pregnancy and Childbirth
– Cribsheet
Q: What are your go-to online shops for home decor?
A: Serena & Lily, Wayfair, Pottery Barn, West Elm, Target, Ballard Designs, McGee & Co and Annie Selke
Q: My skin gets really dry during the cooler months. What can I use to help keep it hydrated?
A: Oh, I hear you on this one, I'm in the same boat! Here's what I do and tell a lot of my Beautycounter customers with dry skin:
– Use a day time moisturizer to hydrate and protect your skin throughout the day. I like this Countermatch one for extremely dry skin, or this Countertime cream for dry and aging skin.
– At night, use either a serum or oil AND a night cream. This serum is super hydrating and increases elasticity while decreasing fine lines. This night cream is insanely rich and hydrating, it's a customer favorite! If you want to use a facial oil underneath the night cream instead of a serum, try this one. It hydrates, smooths and evens out skin tone. If you have any other skincare or makeup related questions just shoot me an email or Instagram message, I'm happy to help make recommendations!
Q: Did you have nausea in the first trimester? If so, how did you cope?
A: I did and it was no fun. If you've been following me for a while you may know I have a horrible phobia of vomit, so I was extremely anxious during this time. Luckily, I was nauseous most days of the week but didn't actually get sick. These natural peppermint candies really helped me (I'd suck on one whenever the nausea was really intense), and I ate a lot of gluten-free toast and crackers. I have a whole blog post about the first trimester with more info you can read up on here!
This was fun y'all! I'll do another round again soon, so be sure to check out my IG stories where you can ask away!