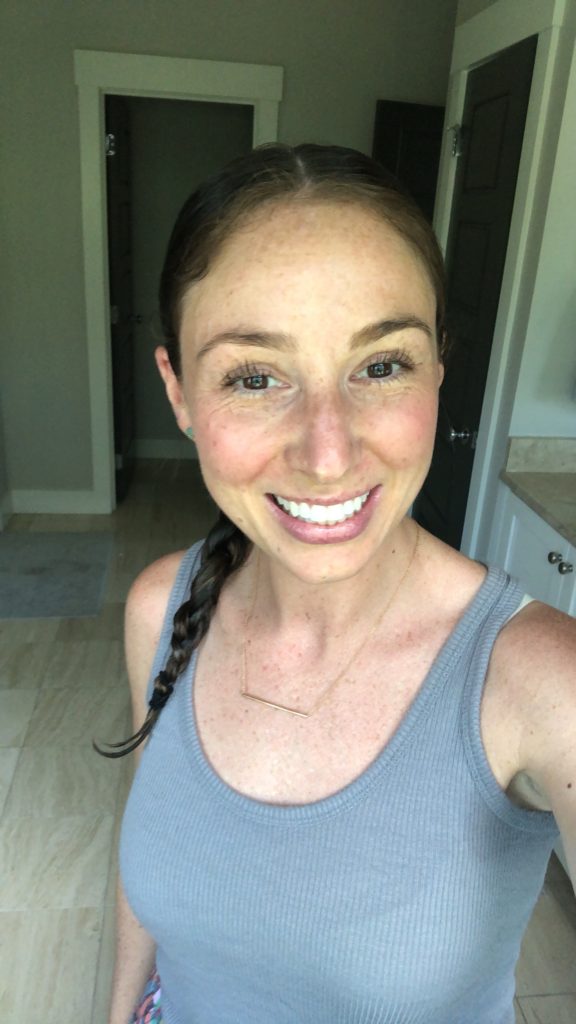 During the warmer months I have some safer beauty products that are a must. From making sure there's SPF on my face to a moisturizing lotion to use after time spent in the sun, these are my summer beauty go-tos.
Summer Beauty Must-Haves:
Body Lotion:

I've done my fair share of experimenting with safer body lotions that actually hydrate my dry skin and these two are the winners.
EO lotion comes in a huge bottle and has essential oils in it. I get the unscented one because I'm super aware of scents during pregnancy, but they do have some nice scented ones and use essential oils, not synthetic fragrance. It's cruelty free, paraben free, polysorbate free, gluten free, and non-GMO verified. I buy mine from Thrive Market which is an online store that makes healthy living easy and affordable for everyone. They have TONS of products from food and wine to supplements, beauty and even pet products. I place an order about once/ month and stock up on things like salad dressing and other condiments, gluten free cookies, bone broth, toothpaste etc. The same products are in Whole Foods and are more expensive there, so I love Thrive as a less-expensive and convenient option to get the healthy products I want. Use this link and you'll get 25% off your first Thrive Market order! Then just search EO Body Lotion 🙂
The other body lotion I love is Countermatch Adaptive Body Moisturizer by Beautycounter. This actually adapts to your skin, giving you the exact hydration your body needs for 24 hours. Many of my customers love this one!
*Keep in mind, Beautycounter has a 60 day return policy so you can try something out and if you don't love it, get your money back. I friggin love this return policy because you really don't risk anything by purchasing!
Self Tanner:
I noticed a few friends who are also very focused on using safer products talking about this self tanner and had to try it for myself. The result: I love it! My college days of slathering oil onto my skin and letting it roast for hours on end are long gone, now that my dermatologist basically scares the crap out of me anytime I go in for a body check. Skin cancer isn't a joke and I want to protect myself as much as possible. This self tanner doesn't have the nasty chemicals that many others do and it doesn't make you look orange, win win! Note that a little bit goes a long way, and I haven't had a problem with being streaky either 🙂
Face Moisturizer with SPF:
Finding a good moisturizer with an SPF that doesn't have harmful chemicals in it can be tricky, but I've got you covered. The Dew Skin Tinted Moisturizer has to be in my top 3 for favorite beauty products, ever. It delivers lightweight hydration, sheer coverage, SPF 20 and gives your skin a gorgeous glow. I use shade #3 which gives me a tiny bit of color on my face. This one is a must-try, y'all!
Blush:
Last on my list is this Satin Powder Blush. Lately, I've just been putting on the dew skin moisturizer (above), a bit of blush, and that's it! Easy peasy for the summer, especially because it's so hot and I don't feel like fussing with makeup. There are some really pretty shades, my two faves are Nectar and Guava. It's a really smooth consistency and blends really well onto the face. And I'm sure you know this by now, but there aren't any questionable ingredients in this one, either!
*You can read more about my full makeup routine here