Confession: Sometimes Mike can't find me in the house, and that's because I'm upstairs in our bathroom playing with Beautycounter's new Holiday Collection. This is my first holiday season as a BC consultant so I wasn't sure what to expect. Oh my, the products are SO good. The colors, the packaging, the options…. they're perfect for gifts. Ok, and for ourselves too because there are some you just have to try.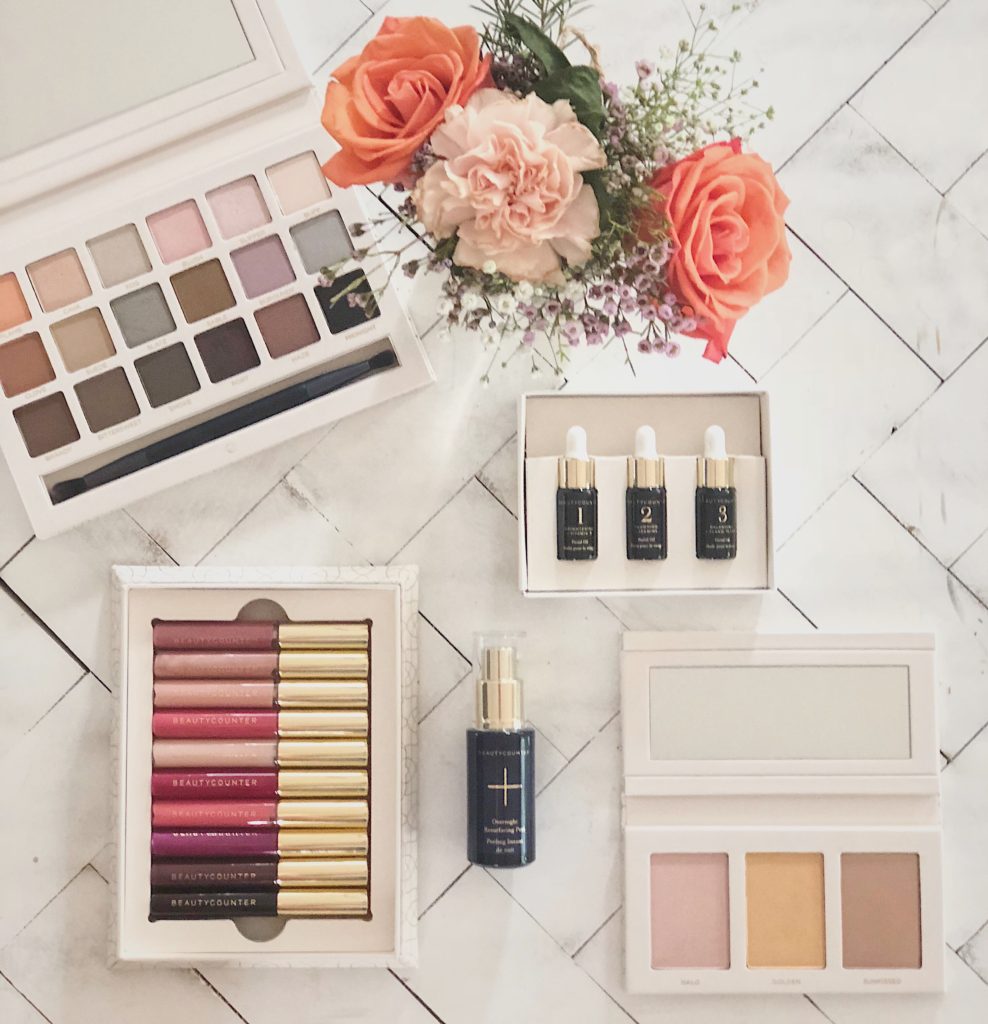 The Details:
21 sets
9 new products
49 new shades
I have my 5 minute safer skincare routine that I use every day, but I bought a bunch of the holiday sets so I could try them out before recommending to others. I sure do have some favorites!
Let's talk about my top 5 must-haves:
Instant Awakening Trio ($89): This is perfect for dull and tired skin, especially in the winter! The best selling Overnight Resurfacing Peel is included and the new Illuminating Cream is quickly becoming a favorite as well. Also included are the new Eye Revive Cooling Masks. This set, in my opinion, would make a great gift for yourself!
Transforming Lip Duo ($30): I'll be honest, I wasn't sure how this one was going to work at first. It's a transforming lip tint that creates a custom color on everyone. Apparently Dior makes one too that is quite popular, I didn't know transforming lipstick was a thing! I really love this as it gives a natural look with the perfect amount of color and shine.
Glow & Go Mini Oils ($30): You've heard me talk about the facial oils before, they're my favorite product we have! In this set you get all 3 in perfect mini sizes. This would be a really cool gift or stocking stuffer.
Mini Lip Gloss Vault ($89): You can always find at least 3 tubes of gloss in my purse at all times, I love it! This is a set of 10 mini glosses and I love having so many colors to choose from. You can never have too many glosses, right?!
Counterman Travel Set ($45): I am very excited about this one because I strongly believe men should be using safer products too. This set includes a daily exfoliating cleanser, smoothing shaving cream, cooling aftershave tonic and an oil-free face lotion — all tucked into a sleek toiletry bag! Mike's been using it for a few weeks now and loves the scent and how smooth his skin is.
I can't narrow it down to just 5, whoops. Necessary Neutrals Eyeshadow Palette ($89): I am not a big makeup person. I have used the same neutral colored eyeshadow for the past few years now. I bought a bunch of the holiday sets so that I could see them and try them for myself before talking about it with my customers. I didn't expect to care too much about these eyeshadows but oh boy, I really do love them! It's fun to play around with different ones and because they're all in the neutral family I don't feel like I'm overdoing it. This would be a really fun gift for someone!
You can view the entire collection here. If you have any questions please email me, I'm happy to make recommendations! Using safer products on ourselves and our loved ones is so, so important. I love that we can gift this to those we care about this holiday season <3