This morning I posted a picture of Maddy Grace's breakfast on Instagram
and immediately started getting questions and comments about it. So I thought it might be useful to post the three breakfasts that she loves the most. They're baby and toddler friendly, nutritious and easy to make!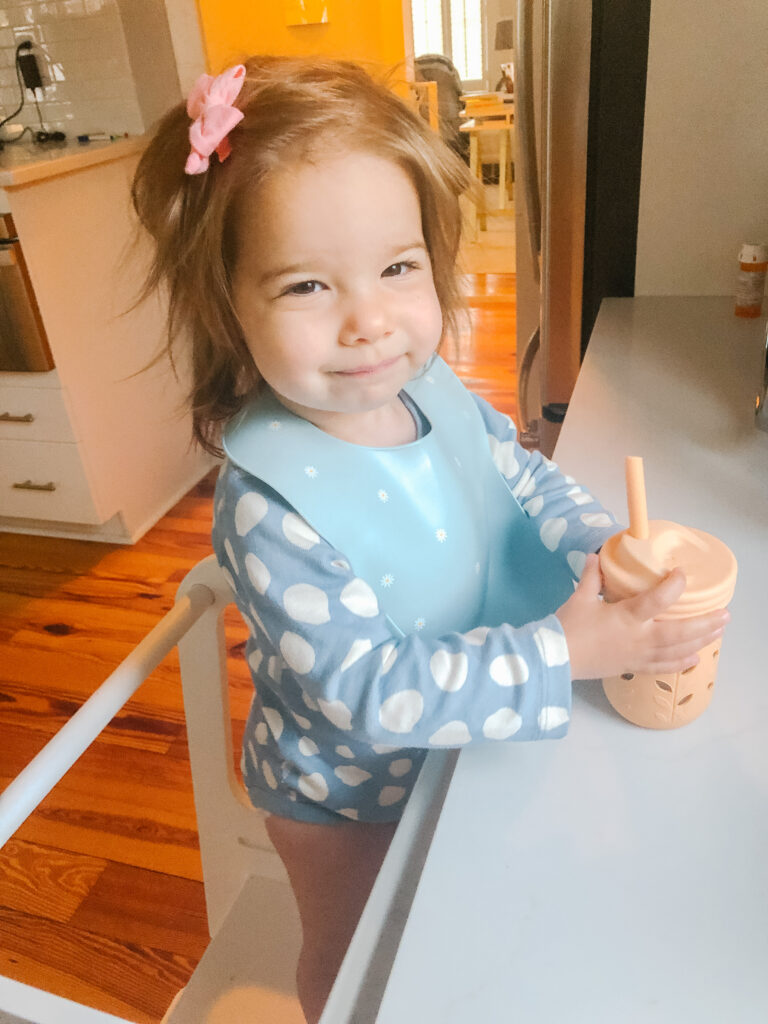 Fruit + Veggie Shake:
Handful of organic greens (mixed, kale, spinach) fresh or frozen
Organic strawberries (again, fresh or frozen) 5ish pieces
Organic pineapple (we buy this frozen) 3ish chunks
Organic cauliflower (we buy this frozen) 5ish pieces
1T ground flax seed
1T hemp seed hearts
1T nut butter
1/4 avocado
1/4 cup non-dairy milk (we alternate between almond, macadamia, pea + oat milk)
Splash of water- depending on how thick you want it, play around with the milk + water
A few ice cubes + blend!
Pro tip: Make extra and store in an airtight container so you have leftovers for a snack or tomorrow's breakfast
You have a lot of options with this: sub in blackberries or blueberries for strawberries, add in mango instead of pineapple, etc. Add in dairy-free yogurt for more protein. You can change it up daily! I usually give her the shake along with a gluten-free waffle or toast with nut butter, or alongside a bowl of the Filling Oatmeal (below).
We LOVE these glass jars for our shake cups!
Filling Oatmeal:
Sprouted oats (they're much better on our digestive tract!) We love the brand One Degree (I always pour enough to make 2 servings)
1/2 cup dairy-free milk (Oat, pea, almond, macadamia etc)
1T Coconut butter or nut butter
1T hemp seeds
Cook oats as per instructions on package with either dairy-free milk or water (or both). Then mix in nut butter and hemp seeds. Can add in fruit on top or on the side!
Pro tip: Make 2-3 servings, store in fridge for an easy breakfast throughout the week. Just re-heat with some extra milk
Baby Omelette:
Maddy used to love eggs, but now it's about 50/50 shot of her eating them or not. I have found that if I make them into a little omelette with some goodies added in, she's much more likely to like them (rather than them being plain scrambled eggs).
One pasture-raised, organic egg
Onion, broccoli, peppers, spinach, mushrooms (These are just options, I usually use 2-3 of these) Chopped small
1/4 avocado
Melt avocado, coconut or olive oil in pan. Chop veggies up small. Sauté them in oil until soft, add scrambled egg and mix together until cooked to your (or your kid's) liking. Add avocado on top or on the side
Pro tip: Make extra for yourself! OR sauté extra veggies so you can store them in the fridge for easy additions to meals for the next day or two!
If you enjoyed this post, you may also like this one: Baby Feeding Essentials