We have two occasions to celebrate with Maddy Grace this month, her first birthday and Christmas! She was only 5 days old last Christmas, so I'm really excited to hang with her and see the holiday through her eyes this year. While I was putting together a gift wish list for her I had a few things in mind:
Choose items that are non-toxic or as safe as possible
Choose items that will last a while
Keep clutter to a minimum
There are A LOT of toy options for babies and toddlers out there, but I really hope these are items that she will love and play with for a long time.
Maddy's Gift Wish List: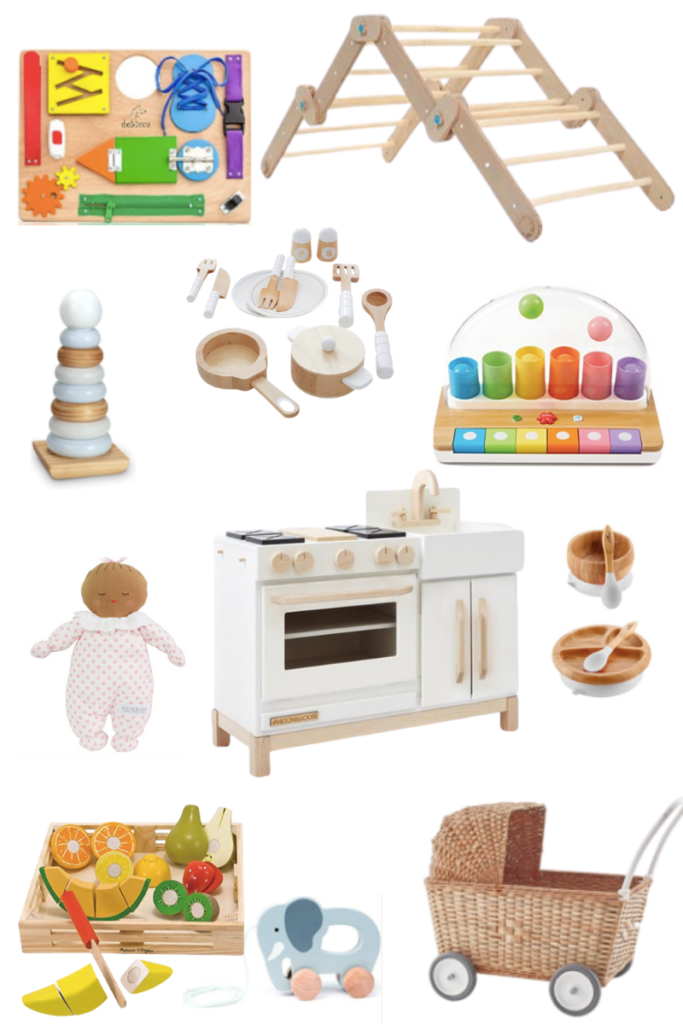 Pikler triangle: I looked at a bunch of different options for this and decided on this one because I like that it has lots of different configurations!
Elephant push and pull toy: Pretty sure she is going to love this little cutie!
Pop! Pop! Piano: I've seen this mentioned on a few different blogs, it looks fun!
Play kitchen: This was a splurge item though we did get it on sale during Black Friday. I'm embarrassed to admit the amount of time I spent looking at play kitchens. I really wanted one that was non-toxic and that can hold up for a long time. To say I'm obsessed with this is an understatement, I cannot wait for her to see it on her birthday. Also, it comes mostly assembled (major bonus because we are 0% handy) and is going to match our decor (this may not be something you care about but it's important to me!). The brand is so reputable, people say they've lasted for 10 years and their safety standards are top notch.
Side-note: I also had my eye on this one which is super cute
Cutting fruit set: A great non-toxic brand, this will be fun to play with in her kitchen.
Wooden cooking and eating set: I love that this is wooden so I don't have to worry about her putting plastic in her mouth, and it matches her play kitchen!
Jumbo wooden stacker: Maddy loves toys like this and I like the white and wood color scheme 😉
Montessori busy board: A friend told me about this and I think it'll keep a toddler busy for a while.
Bamboo plate and bowl set: Comes in a lot of pretty colors!
Rattan baby stroller: Could this be any sweeter? Comes in a few different colors, we went with the natural.
Asleep/ awake baby doll: This baby is made from non-toxic materials and is asleep on one side, awake on the other.
Also on her list but not pictured above:
Kitchen helper tower: We got this for Maddy last month and it's been a lifesaver because she'll stand in it and play with a spatula (lol) while we cook. I think we'll use this for a long time and it adjusts as the child gets bigger. I can't wait to make pancakes or cookies and have her help 🙂
Push wagon with blocks: We bought this for her a few months ago and it's been a huge hit. She walks around with it and has now learned to turn it and navigate! I love that it comes with colorful blocks too.
Play, touch and feel puzzle
Magnetic wooden block set

Shop this post: