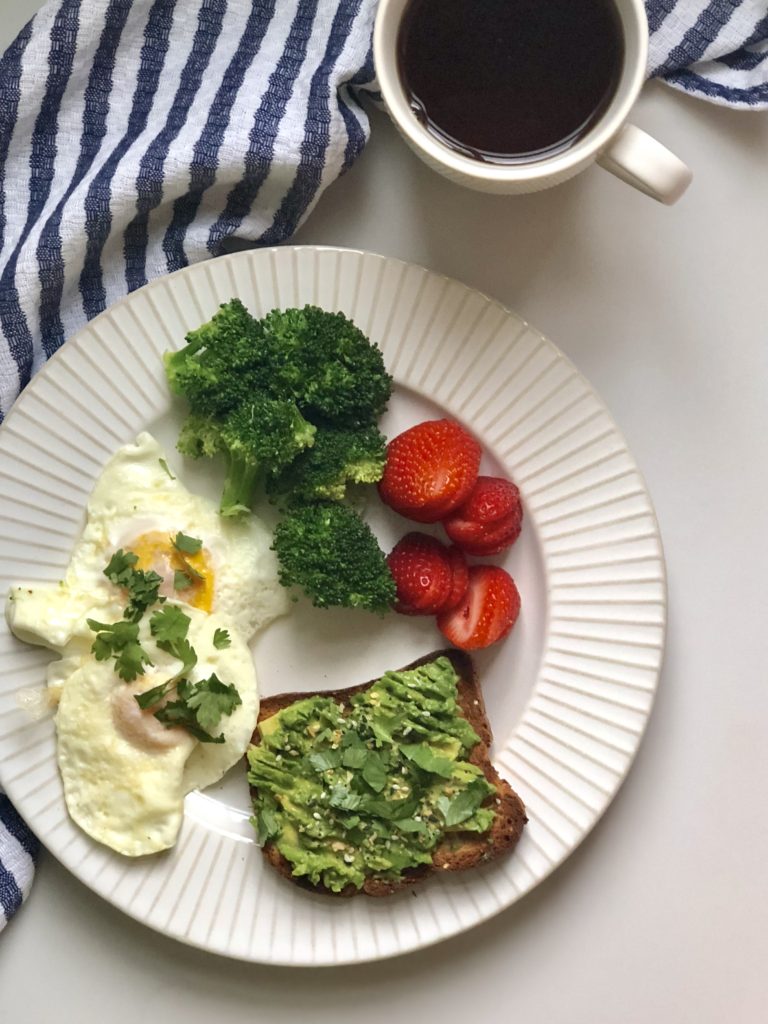 When it comes to breakfast I basically eat the same thing most days of the week. I love starting the day off with a healthy meal that consists of protein, carbs and a good fat. This yummy plate of food keeps me full for a while and I always feel better getting some extra veggies in!
Roughly 5 days/week I have 2 eggs with a quarter of an avocado and steamed broccoli. The eggs and avocado get some cilantro and Trader Joe's Everything but the Bagel seasoning. The other 2 days of the week I'll have the above with a slice of Canyon Bakehouse gluten free toast and I usually mash the avocado on top of the toast (as pictured here). Additionally, 1-2 days/ week I'll add in some cut up strawberries and if Mike made bacon or sausage I'll have a piece or 2 of that.
So it's always eggs, avocado and a veggie (usually steamed broccoli, sometimes sautéed kale) and then I add in the toast, strawberries, bacon or sausage a few days each week. The eggs we use are Vital Farms, I love them and if for some reason we purchase another kind we can always tell the difference because the Vital Farms yolk is so vibrant!
This only takes 10-ish minutes to make and we usually steam a bunch of broccoli in the beginning of the week to last a few days. It's easy peasy, healthy and filling!