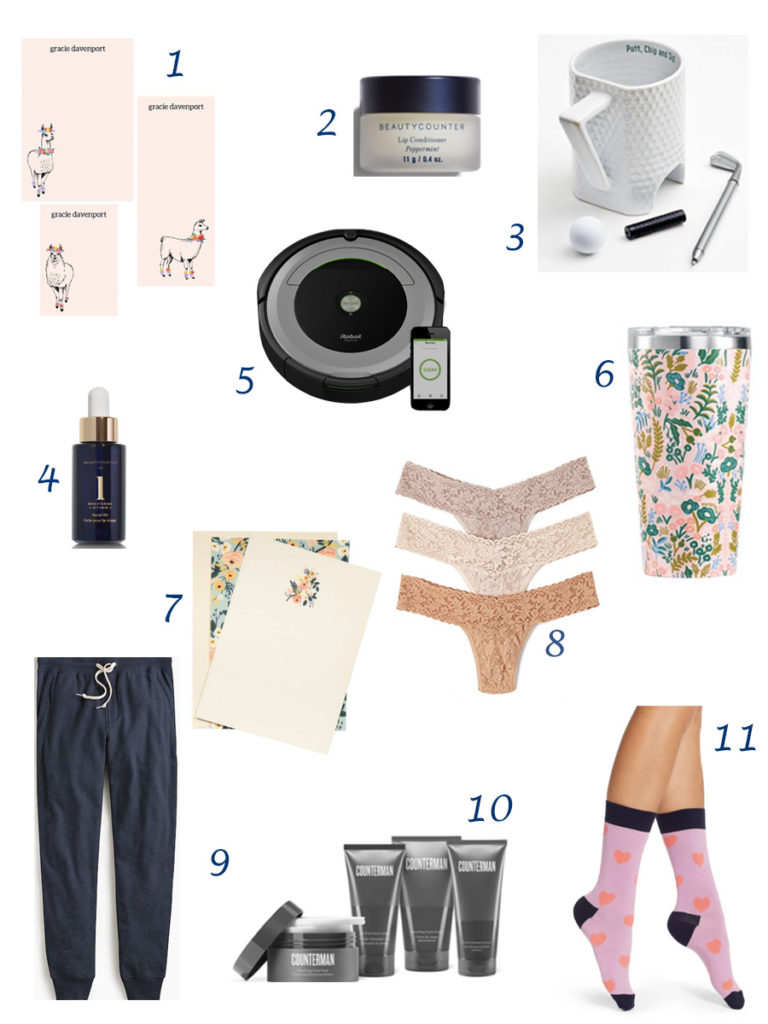 February means two things to me: Spring is getting closer and all of the Valentine's Day decor will be out in stores and online. I know some people don't really care about this holiday which is totally fine, but I choose to love it. Yes, we should be telling those we love how we feel about them all days of the year but I will totally take an excuse to send some cute cards, give Mike an extra squeeze and have a nice dinner to celebrate love.
Mind you, it isn't just about having a significant other to love. This holiday can be a great reminder to call up a friend you haven't spoken to in a while, call your parents and tell them you love them AND show some extra love and appreciation to yourself.
So if you're choosing to celebrate love and want to get someone or yourself a little something, I've rounded up some really great options! There's gifts for her like these heart socks, this cool golf mug for him (or these cozy sweatpants that Mike has and loves!), or even this tumbler that has the prettiest pattern for a girlfriend or your mother-in-law!
Valentine's Gift Ideas:
Personalized Notepads: I cannot handle the cuteness. I have a little llama obsession so I just love these! But there's a bunch of other options to choose from if llamas aren't really your thing.
Peppermint Lip Conditioner: Choose a safer lip balm that doesn't have nasty chemicals. This one is so moisturizing with shea butter, avocado oil, and is infused with peppermint and rosemary oils, yum.
Golf Mug: Mike has this, it's just a fun little gift for any golfer in your life!
Brightening Facial Oil: This stuff is amazing. It has 7 natural oils that hydrate and replenish skin. I have yet to meet a woman who doesn't become obsessed after trying this!
Roomba Vacuuming Robot: Who says you can't splurge a little and get this one?! This is on my list of eventual purchases and I'll definitely be using a 20% off coupon to help with the cost!
Rose Tumbler: So pretty and a thoughtful gift for a lucky lady in your life!
Floral Writing Set: It is so nice to have some simple yet elegant stationary to send a quick note. An inexpensive yet thoughtful gift!
Lace Hanky Panky Set: I love the neutral colors of these thongs and they are really comfortable, which is a major plus.
Men's Brushed Fleece Sweatpant: I bought these for Mike in a few colors for Christmas and he wears them on repeat!
Safer Skincare for Men: It's about time there's a safer personal care product option out there for the men in our lives! Choose from products such as: face lotion, shaving cream, after shave (smells SO good), toner, beard oil, body wash and the list goes on.
Heart Socks: These are adorable and just a fun little gift to let a sweet someone know you're thinking of her!
Shop the post using the links above or scroll through the pictures below!