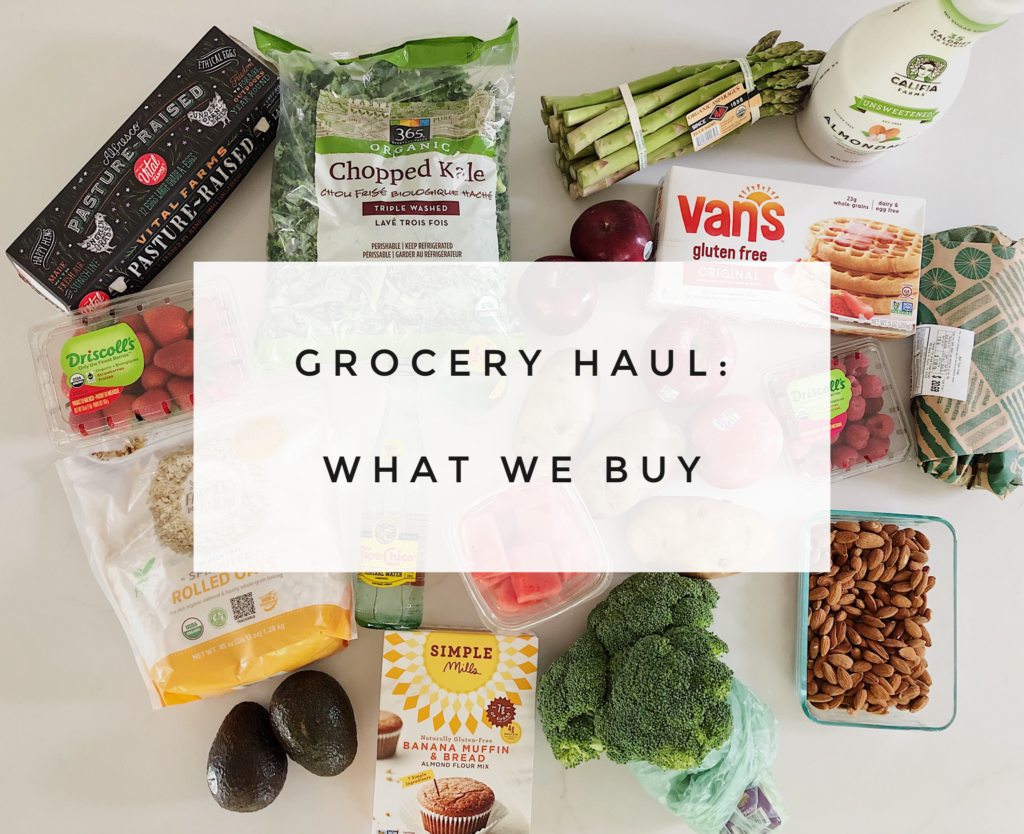 You might think I'm a big weirdo for this, but I love food shopping. Going to Whole Foods in the morning (when it isn't super crowded) and roaming up and down the aisles calms me down. Yeah, it sounds a little weird now that I'm typing this out, but it's true!
I figured today I'd show you exactly what we buy during a grocery haul, which should go nicely with the weekly meal plans I've been posting on Mondays (click here for this week's). We usually go food shopping twice per week and then stop in one other time to grab fresh fish or something of the sort.
Below is a pretty good indication of what we purchase on a weekly basis: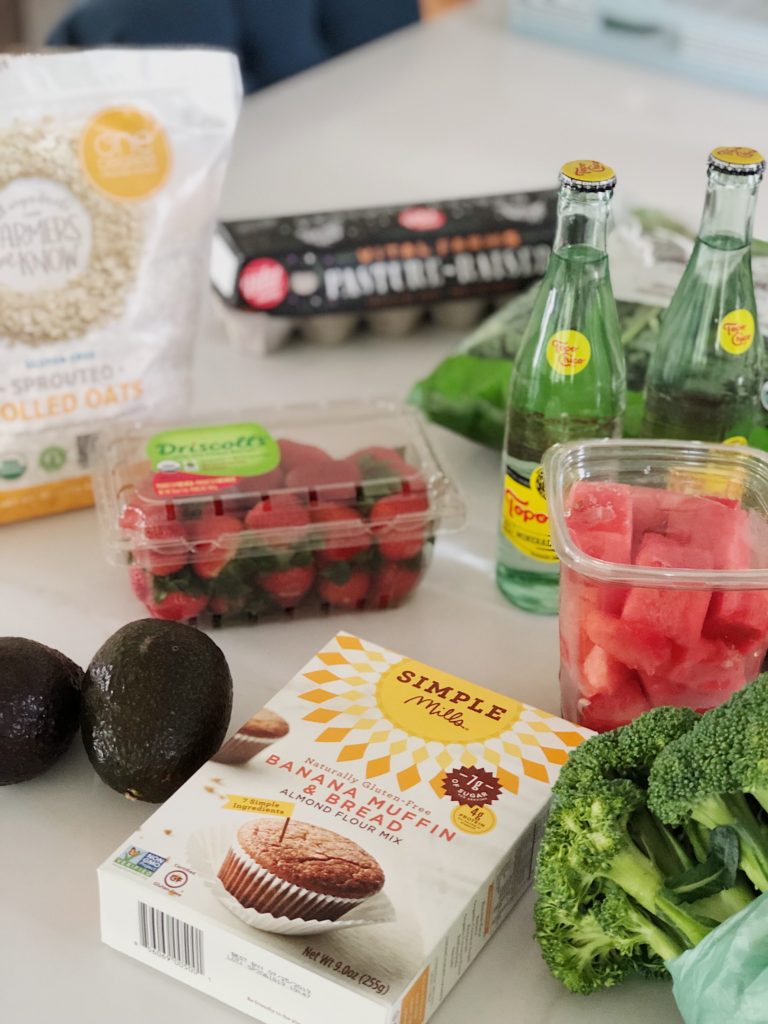 Produce we ALWAYS have on hand:
Organic broccoli
Organic kale
Avocado
Organic asparagus
Organic spinach
Organic russet potatoes
Sweet or white onion
Organic apples – Mike only eats Red Delicious, I am less picky and will get whichever organic is on sale 🙂
I've also been getting organic strawberries and raspberries, and pre-cut watermelon during our past few grocery hauls.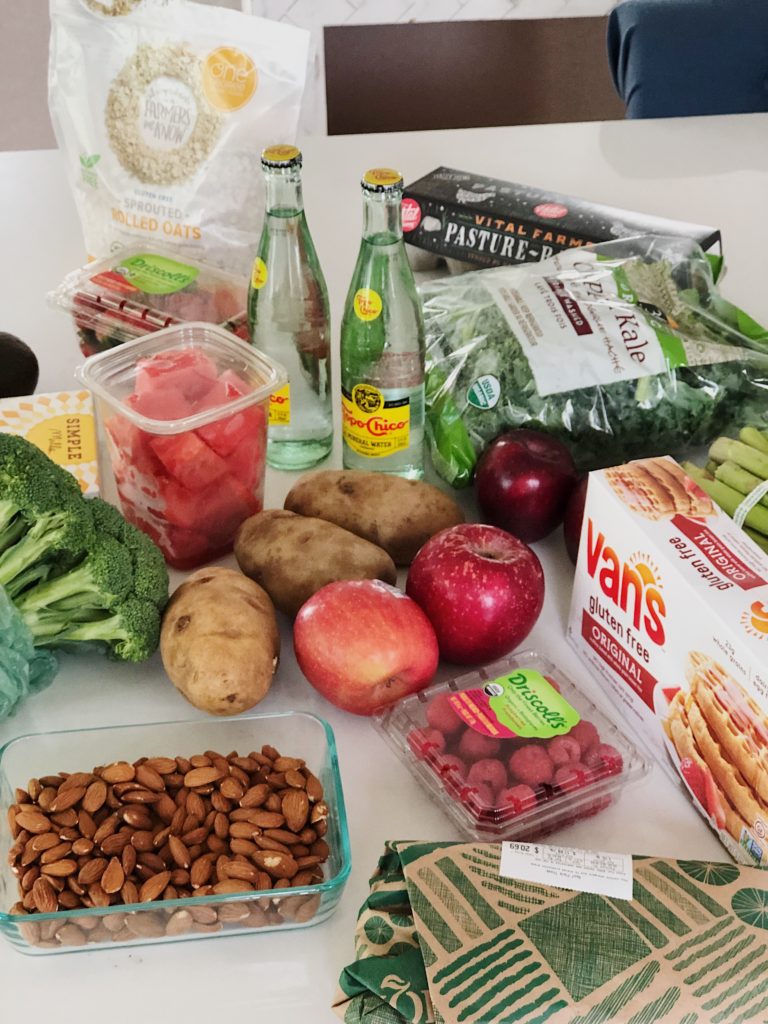 Protein:
The only meat we bought this shopping trip is a grass fed flank steak. We get most of our meat from Butcherbox. They deliver organic, grass fed meat to our doorstep each month! It comes frozen so I keep it in the freezer and take out to defrost as needed. Having this is super convenient as we always have protein ready to go. Try them out using this link and you'll get 2lbs of Wild Alaskan Salmon in your first box for FREE!
We'll usually grab wild salmon, wild shrimp or some sort of grass fed steak at Whole Foods if we've used up what's in the freezer or are craving something different. Also, organic chicken breast ends up in our cart frequently because we eat so much of it.
Vital Farms pasture-raised eggs are a must, these are by far my favorite and for the amount of eggs we consume (a couple/ day) I love knowing they are coming from a good source.
Liquids:
This one is pretty simple:
Califia Farms almond milk
Mineral water or S. Pellegrino
Wine – not in today's trip either, we're stocked up 😉
I think that's it for liquids. Mike gets organic coffee grounds when needed and I get organic decaf black tea and organic matcha powder (Republic of Tea is my favorite brand)



Snacks + Other Things: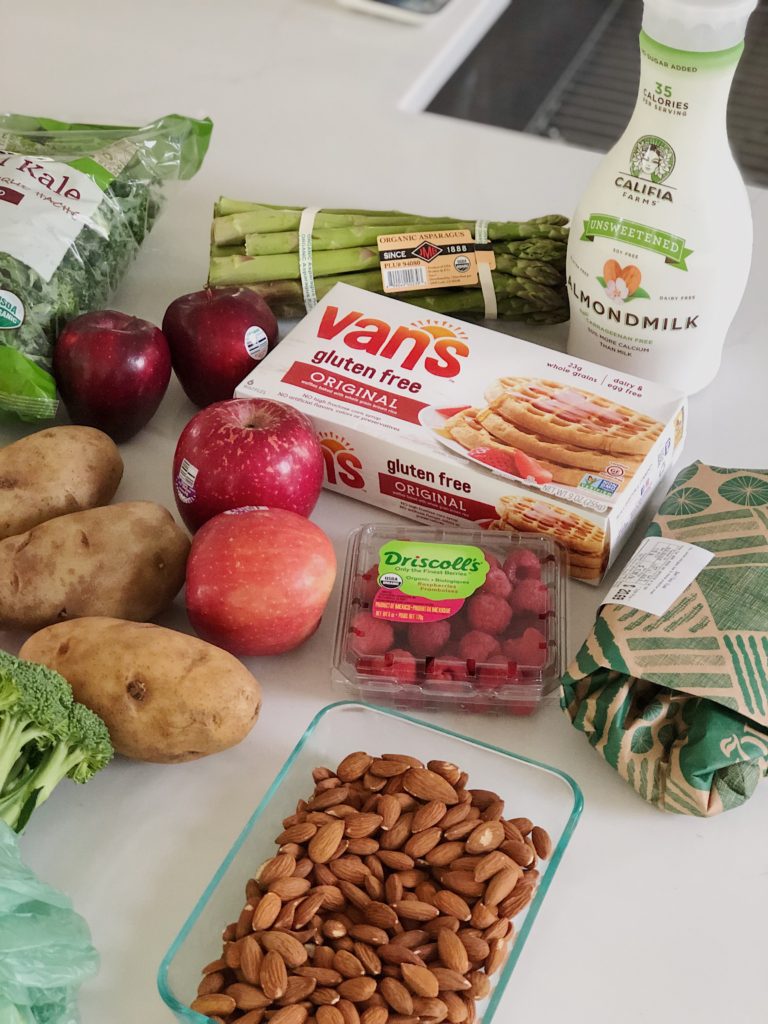 We like having nuts on hand to snack on and get them from the bulk section. Organic almonds, walnuts and cashews are usually what we buy. Sometimes macadamia too but I have a hard time not eating them all at once!

Simple Mills is usually in our cart, whether it's the banana nut muffins or the chocolate chip cookie dough mix, it's SO good and the limited ingredients make me very happy!
Some type of carby breakfast item, usually either gluten free waffles, Canyon Bakehouse GF everything bagels or bread. I also love One Degree's gluten free, sprouted rolled oats. Non-sprouted oatmeal makes me super bloated (sprouted helps aid in digestion and also increases the essential nutrients in the oats). I use these oats to make the Chocolate Chip Oatmeal Balls that Mike and many of you are obsessed with!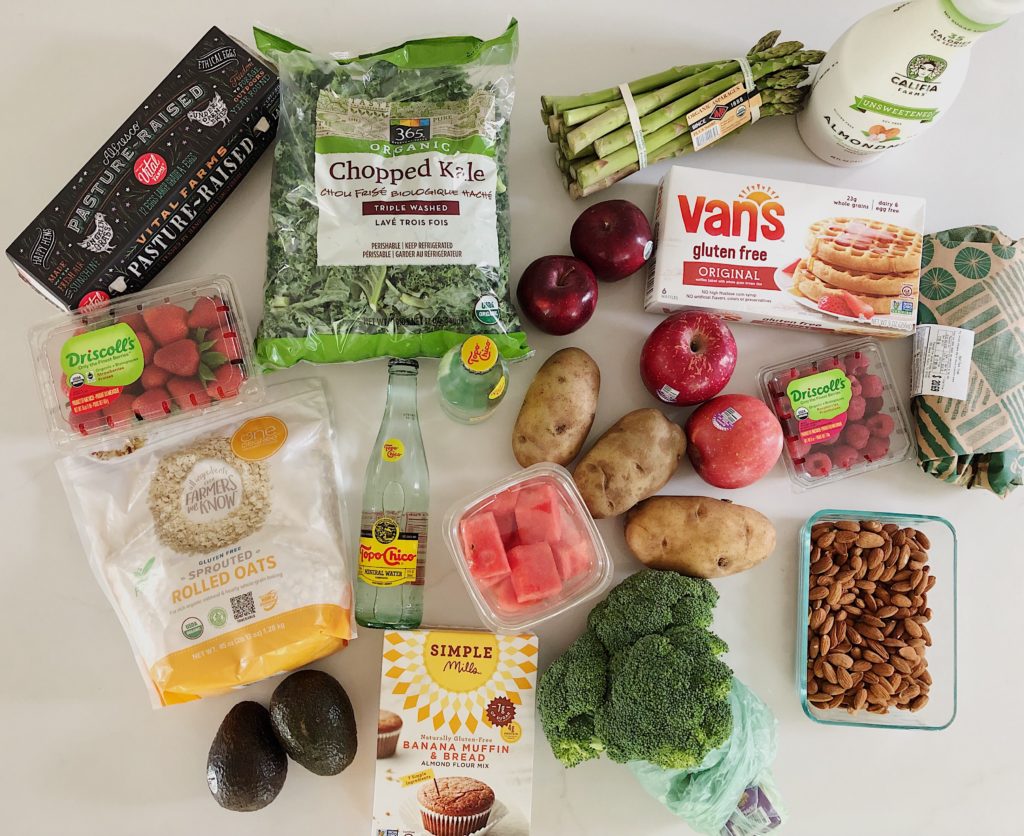 That's it for this grocery haul! Hopefully this is helpful and sparks some ideas for you. Let me know if you have any questions <3