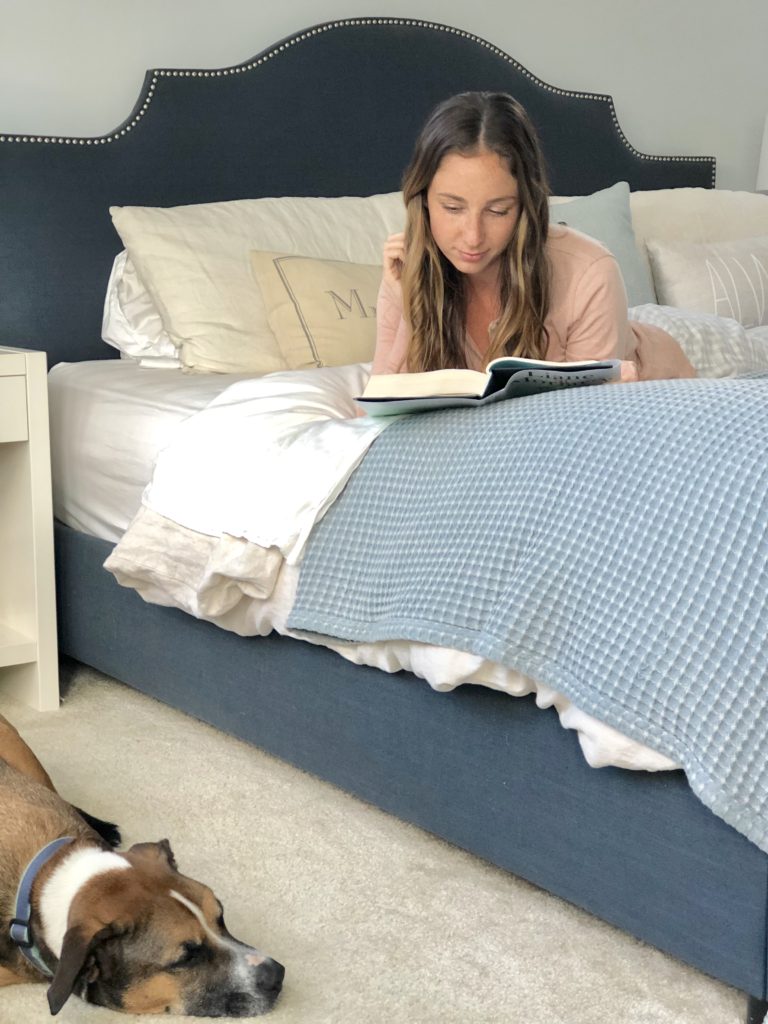 It's been a while since I've done a book review post, and since I've been blocking out dedicated reading time into my schedule, I finally have some new books to share! Here they are, in no particular order. Keep in mind you can click on the book title to get more info.
Rating: 5/5
If you don't know who Rachel Hollis is, look her up! She's super inspiring as is this book. Each chapter is titled after a lie that Rachel believed to be true in her own life and that many of us can relate to. These lies leave us feeling overwhelmed, stressed or ready to throw in the towel on our dreams. Rachel talks about these limiting beliefs and how we can overcome them and become a better version of ourselves. I highly, highly recommend this one!
Rating: 4.5/5
I chose this for my book club a few months ago and we all loved it! Agatha is pregnant and working part time in a grocery store in London. Meghan is a woman who shops in the store, also pregnant, and seems to live the perfect life. Agatha admires her and becomes a bit obsessed. She gets the courage to introduce herself to Meghan one day and little does Meghan know, her world is about to be turned upside down. I couldn't put this book down!
Rating: 3.5/5
Behind Closed Doors is one of my favorite books by BA Paris so I was really excited to read this. Cass is sort of going crazy after driving home one night in the pouring rain and passing a woman pulled off to the side of the road, the woman who was killed.  She feels horrible for not having stopped to check to see if she was ok and it's driving her mad. She forgets where she parked her car, she's been getting weird phone calls, she can't remember the things that used to come so easily. She feels like someone is watching her and her life starts in a downward spiral. I will say, the book wasn't as good as Behind Closed Doors but I still liked it a lot!
Rating: 4.5/5
How often do you not do something because you "don't have time?" I say this often and am so glad I stumbled upon this book because it's helping me big time. Laura Vanderkam reveals seven counterintuitive principles that the most time-free people have adopted. She teaches how to become more aware of what your 24 hours consist of, how to manage your time and get rid of that busy and overwhelmed feeling.
Rating: 4/5
I really enjoyed this book and love Lori Harder. She is a self-love expert and has a great podcast, Earn Your Happy. In this book she shares the structure she used to build new friendships and a positive, motivating tribe. She discusses why it's so important for women to have a strong social circles and how many of us crave it but don't take the actions to actually create this. This is a great read for anyone seeking connection and inspiration!
3.5/5
This was a book we chose in my neighborhood book club. Roy and Celeste are newlyweds, he's a young executive and she's an artist. As they begin to settle into their newly married routine, they are torn apart by something neither of them ever imagined. Love, race, loyalty and justice come into play as Celestial begins to fall for another man and there isn't much Roy can do about it for quite some time. This book wasn't my favorite but it kept me entertained, and I had to keep reading to know who Celestial ended up with!
Now tell me, what are some books you've been loving lately?!
Shop The Books: