One of the most simple ways to bring your home decor up a notch is to add in some house plants. They don't have to be extravagant or exotic looking and if you ask me, the easier to take care of, the better!
When we first started decorating our home I bought a few plants to put on top of our bookshelves in the living room. Plants can be perfect for shelving especially when you aren't sure what else to put in it's place. I didn't think about the lighting though, and the plants I chose had a tough time thriving. We get pretty good light most of the day in that area, and it turns out that what I bought was more for shaded areas. Whoops. You live, you learn, right?
Fast forward to two years later and I *think* I've got our indoor plant life down. The greenery around the house is really nice and it adds a natural element to the space. Also, using planters or baskets to go with your decor adds in another decor element and can really catch peoples' eye!
The House Plants We Have And Love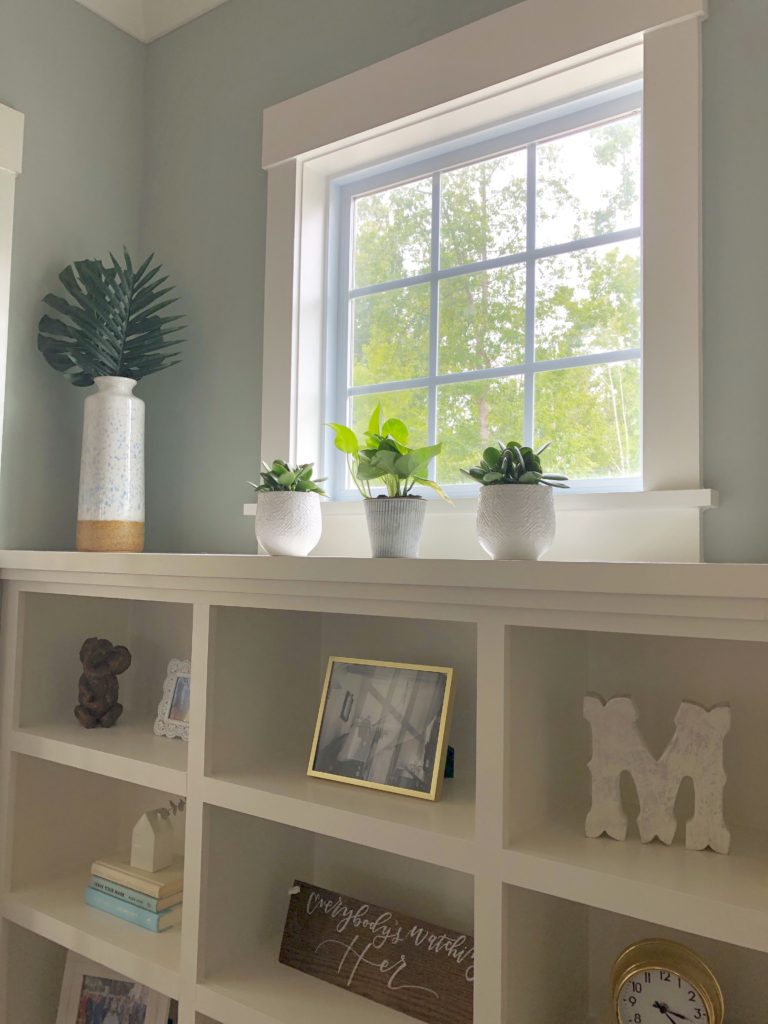 This shelving area is to the left of our fireplace. The plants here are: Two jade plants (which is a succulent) and a golden pothos in the middle (apparently these are one of the easiest plants ever, sign me up!). I have the succulents in the same white ceramic pots and then switched it up for the golden pothos in the middle.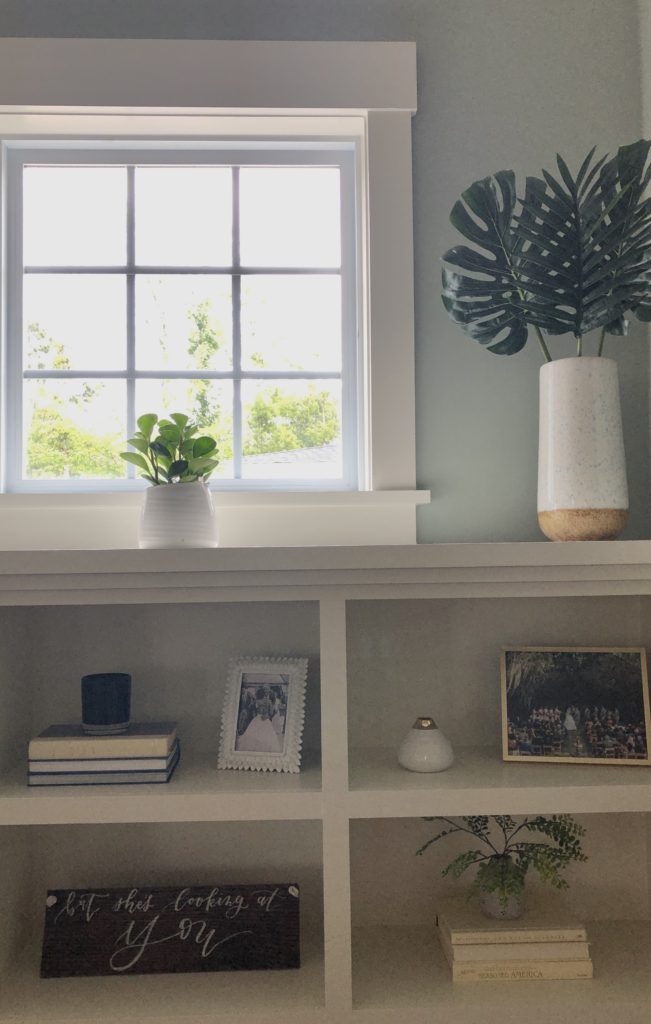 Then on the other side of the fireplace I've just got this one cutie, a peperomia. Again, this is supposed to be easy to manage! The stems you see in the vases are faux and very inexpensive, you can get them here!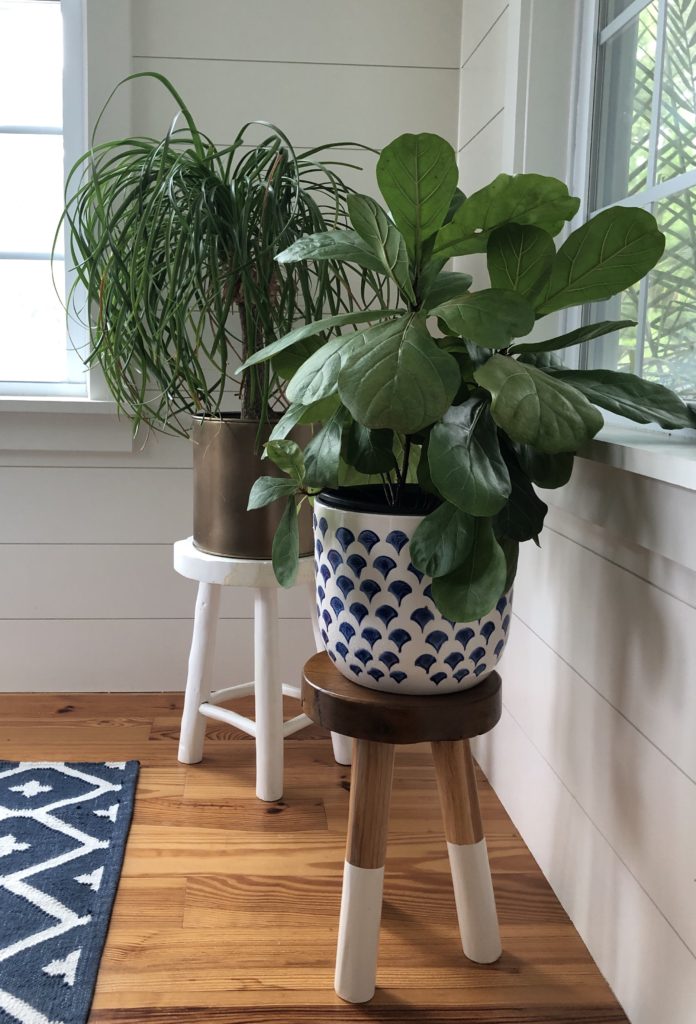 In our breakfast nook we have a ponytail palm (named Perry!) and a fiddle leaf fig. This fig is on the smaller side but I do repot it every once in a while so it gets bigger. I love putting them up on stools, you can get the cute white-dipped one here!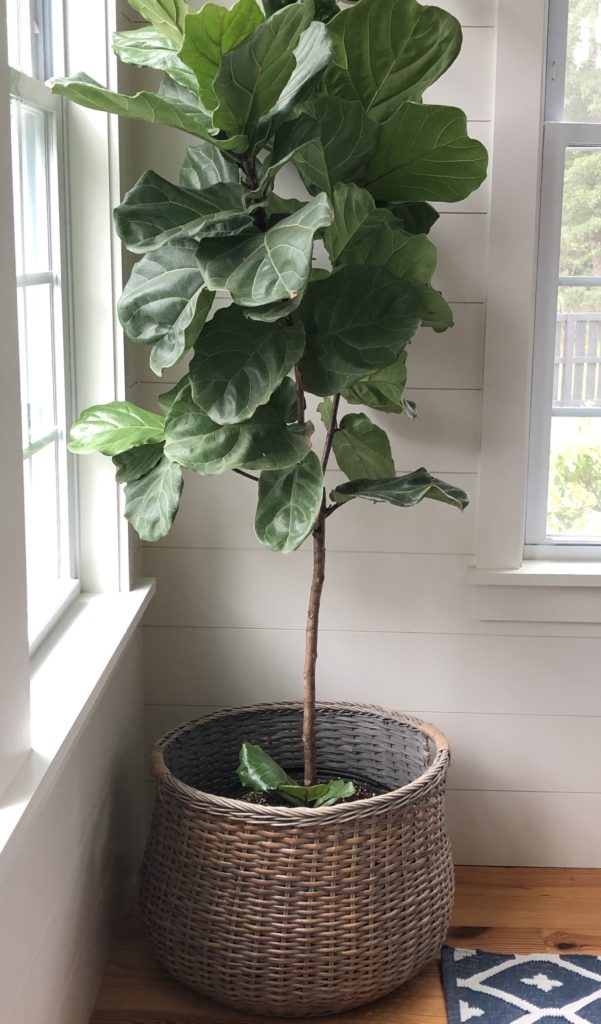 This big fiddle leaf fig is on the other side of our breakfast nook and I was really worried I wouldn't be able to keep it alive. I've heard they are tricky to take care of but (knock on wood) it's doing well so far! I think the key here is not to over-water them, I water once/ month. I stuck it in an oversized basket and we carry it outside for watering. You can see some of my favorite plant baskets here! When in doubt, always put your plant in a basket. It's easy and gives it a nice touch!